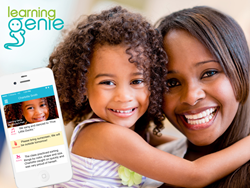 New Orleans, LA (PRWEB) December 08, 2014
Research shows that 90% of a child's brain develops in the first five years of life, making this a precious window of opportunity for learning. The National Head Start Association (NHSA) indicates that parent's involvement in their children's education is positively related to their children's cognitive and social–emotional development as well as school readiness. In order to achieve maximum development during that time, parents are encouraged to become educators just as much as teachers are.
Imagine this: a father comes home after a busy day at work, and with a few taps on his phone, is able to sing the song that his 3-year-old daughter learned in circle time that day. He creates a priceless bonding moment, his daughter is ecstatic, and all the while, she's expanding on her learning.
At the same time, little Johnny is telling his mom about a book his teacher read. She pulls out her phone, and with a few taps, she can read that same book to Johnny before bed.
Yup, you got it—there's an app for that.
Learning Genie is helping to foster this engagement beyond the traditional ways. Using the app, teachers easily record and share reports with parents that instantly keep them informed, engaged and involved. It really creates a greater connection and a feeling of collaboration between the parents and teachers. In addition, all of these records are documented and automatically saved—all of the photos, activities, songs and books—become somewhat of a memory book, to look back on and see the child's growth.
In addition, Learning Genie is striving to help Head Start families and communities achieve even more successful results in family involvement. This week, Learning Genie will be exhibiting at the NHSA Parent Conference in New Orleans. This is a weeklong opportunity to collaborate, learn and share ideas on how to continue increasing parent engagement for the benefit of our youth.
The learning shouldn't stop at school. In order to make the most of those first five years, everyone needs to be involved