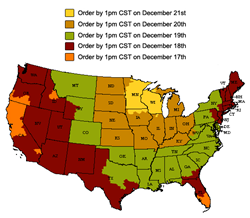 Our holiday map is clear and simple. If you live here, then you need to order by this time on this date.
Boyd, WI (PRWEB) December 12, 2014
There is a lot of effort that goes into gift-giving this time of year; when the time for gift-opening finally comes, disappointment can strike hard (for both the giver and the receiver) when there is no gift, but a note explaining that the actual gift hasn't arrived in the mail just yet but that it's on its way.
Unfortunately, the companies that people order from don't always take their role in the gifting process as seriously as the people ordering the gifts.
Other places, on the other hand, are actually looking out for their customers. Online summer camp retailer, Everything Summer Camp, is one of those places. In their attempt to help make sure everyone's gifting goes just the way they want it to this year, they guide your attention to the holiday map.
Their color-coded map of the United States simply clears up all confusion concerning how long in advance people need to place their orders at Everything Summer Camp in order to receive their shipments in time for Christmas.
"Our holiday map is clear and simple. If you live here, then you need to order by this time on this date. We want everyone's holiday to go smoothly," says Brian, Operations Manager at Everything Summer Camp.
While delivery times will certainly vary based on where in the country people are, Everything Summer Camp prefers to play it safe and give out 1:00pm on December 17 as the time and date that everybody in the contiguous United States can go off of for guaranteed delivery by December 24.
December 17 may be early for some of people who live closer to Wisconsin. Everything Summer Camp is based in northwestern Wisconsin, so if you live in Wisconsin, most parts of Minnesota, or another nearby area, you can get away with placing your order as late as 1:00pm on December 21.
About Everything Summer Camp
Everything Summer Camp has been helping kids get ready for summer camp since 1987. Their wide selection of camping gear includes camp trunks and other camping supplies. Top selling items include water bottles, cot-sized bedding, rain jackets, insect repellent, iron on labels, and more. Known for their customer service and fast shipping Everything Summer Camp is recommended by more camps than any other camp outfitter.
Visit EverythingSummerCamp.com to learn more about camp footlockers, name labels, duffel bags, and camping supplies.