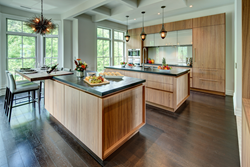 Attendees participated in raffle drawings provided by Jadwin European Spa & Salon, Toys R Us, and Viibe Dance Center
Englewood, NJ (PRWEB) December 17, 2014
Modiani Kitchens, the Englewood, NJ based kitchen remodeling firm, hosted a nutrition symposium in their New Jersey kitchen showroom on November 19, 2014. The symposium, which was titled "It All Begins In The Kitchen", was presented by Habitat for Humanity and featured speaker Kristie L. Finnan, RD, LDN. Finnan entertained while educating attendees by sharing information about healthy eating on the go, creating healthy food habits early for children, dealing with picky eaters, and dealing with food allergies. Finnan also did a cooking demonstration.
In addition to the food demonstrations and information that was shared, attendees participated in raffle drawings provided by Jadwin European Spa & Salon, Toys R Us, and Viibe Dance Center. They also enjoyed light refreshments.
Kristie L. Finnan, RD, LDN is a dietician and nutrition consultant. Habitat for Humanity is a non-profit organization that works to build and rebuild communities and homes. The organization had a strong presence in New Jersey directly following Hurricane Sandy and continues to foster growth and rebuilding across the state. Modiani Kitchens is a New Jersey based kitchen cabinet and kitchen design company that specializes in sophisticated kitchen design, contemporary kitchen cabinets, and traditional kitchen cabinets.