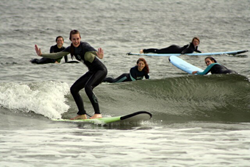 I would not be where I am today without the people I have met within our group.
Biddeford, ME (PRWEB) December 09, 2014
The University of New England has good news for Maine high school seniors planning to major in Science, Technology, Engineering and Math (STEM) disciplines – Students with demonstrated financial need are eligible for a four- year scholarship totaling up to $40,000 thanks to a grant from the National Science Foundation (NSF).
The Maine Mathematics and Science Scholars for School and University Collaboration Centered on Educating STEM Students (SUCCESS) program provides as many as 12 students up to $10,000 per year. This scholarship supplements any other scholarship or financial aid provided by the University. The deadline for applications for the class of 2019 is February 1, 2015. First-generation students and those from under-represented groups interested in STEM fields are also encouraged to apply.
Being chosen as a SUCCESS scholar carries benefits beyond tuition assistance. The program funds participation in UNE's summer Trailblazers program, in which the students spend a week together on Cow Island—an opportunity that provides the students with an intense bonding experience, which eases the transition to college social life.
The first group of Maine SUCCESS recipients are already benefitting from the program. Biochemistry major Briana Goud, remarked, "I would not be where I am today without the people I have met within our group. Taking a trip together, such as the one to Cow Island, is one of the best ways to bring this program together."
In addition, SUCCESS students complete a week-long academic "boot camp" just before the start of the fall term. The purpose of the boot camp is to introduce the students to some of their upcoming courses, and to acclimate them to the challenges of college coursework. It also includes a significant social component.
Student mentors play a crucial role in the program, tutoring SUCCESS scholars once they land on campus. Scholarship recipient and Marine Science major Liam Kramer-White stated, "Having access to the STEM tutors has definitely helped to support my success at UNE thus far. The tutors are very helpful in all areas of study, and are very sympathetic to each individual's needs as a student. They genuinely care about your success and don't mind giving up their own time to help."
For more information about the SUCCESS scholarship, contact the UNE Financial Aid Office at 207-602-2342 or visit the website.
About UNE
The University of New England (UNE) is an innovative health sciences university grounded in the liberal arts. It has two distinctive coastal Maine campuses and a campus in Tangier, Morocco. With internationally recognized scholars in the sciences, health, medicine and the humanities, UNE offers more than 40 undergraduate, graduate and professional degree programs, and is home to Maine's only medical and dental schools. It is one of a select group of private universities with a comprehensive health education mission that includes medicine, pharmacy, dental medicine, nursing and an array of allied health professions. Visit http://www.une.edu.