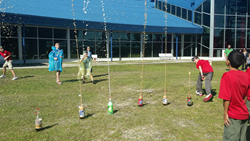 Tampa, Fla. (PRWEB) December 09, 2014
MOSI offers guests the opportunity to step into Santa's science lab and discover the scientific side of the winter holidays. With the help of Santa's elves, MOSI's S.T.E.A.M.punks, guests can make holiday creations with peppermint cloud dough, build colorful ice sculptures and play with fizzing snowballs. Guests can also experience what happens when the S.T.E.A.M.punks mix science with a dash of holiday magic as they witness giant eruptions of Elephant Toothpaste and Mentos Fountains in holiday colors. To complete the day of holiday-themed science, guests can launch reindeer to safety using a slingshot and catapult marshmallows into cups of cocoa.
Mess Fest will take place outside of MOSI's Kids in Charge! building. Mess Fest is included with the cost of general admission and free for MOSI members. MOSI admission, which includes MOSI exhibits and a documentary IMAX film, is $22.95 for adults, $20.95 for seniors (60+), $18.95 for children (6-12), and children 5 and under are free. Museum hours are Monday – Friday, 10 a.m. – 5 p.m. and Saturday and Sunday, 10 a.m. – 6 p.m. For more information, call 813-987-6000 or visit mosi.org.