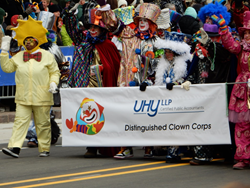 Sterling Heights, Michigan (PRWEB) December 09, 2014
Over the holiday weekend, UHY LLP sponsored the Distinguished Clown Corps float in the 88th America's Thanksgiving Parade. The Parade is Detroit's grandest and most anticipated civic event, the second largest Thanksgiving parade and the third largest parade in the country overall. First televised in 1948, The Parade is now broadcast nationally to more than 65 million viewers.
"With our new office now open downtown, being a part of The Parade kick started our involvement in the local community, and what better way to do it then through this memorable tradition," said UHY Advisors' chairman, Tony Frabotta. "We chose to sponsor this brand new float because the Distinguished Clowns Corps is comprised of community leaders and supporters just like us."
Dozens of employees and their families filled the streets to cheer on UHY's very own Distinguished Clowns (Bill Kingsley, Todd Bensley and son Justin, and Tom Callan and son Joseph) who walked alongside the float, representing UHY. The clowns distributed candy, smiles and UHY beads to spectators along the parade route.
"We are thrilled to have UHY as the sponsor of the Distinguished Clown Corps, a beloved tradition in America's Thanksgiving Parade presented by Art Van," said Tony Michaels, president and CEO of The Parade Company. "It is a privilege to partner with a company that is so committed to our region and community."
# # #
About UHY LLP
UHY LLP, a licensed CPA firm, provides audit and other attest services to publicly traded, privately owned and nonprofit organizations in a number of industry sectors. UHY Advisors provides tax and advisory services to entrepreneurial and other organizations, principally those enterprises in the dynamic middle market.
UHY LLP, operating in an alternative practice structure with UHY Advisors, forms one of the largest professional services firms in the US. While that scale might provide confidence for some clients, others tell us our greatest value is the way we bring these resources to bear to help address today's evolving business challenges. It's a philosophy we call "The Next Level of Service". To learn more visit http://www.uhy-us.com.
All of the above entities are members of UHY International ("UHYI"), a worldwide network of independent professional services firms that provide audit, tax and advisory services around the globe. UHYI is ranked among the top international accountancy networks and a proud member in good standing of the Forum of Firms. Collectively, our US operating entities (UHY LLP and UHY Advisors) are the largest independent members of UHYI with significant participation, bringing the power of our international network to serve the individualized needs of our clients.
UHY LLP is a licensed independent CPA firm that performs attest services in an alternative practice structure with UHY Advisors, Inc. and its subsidiary entities. UHY Advisors, Inc. provides tax and business consulting services through wholly owned subsidiary entities that operate under the name of "UHY Advisors." UHY Advisors, Inc. and its subsidiary entities are not licensed CPA firms. UHY LLP and UHY Advisors, Inc. are U.S. members of Urbach Hacker Young International Limited, a UK company, and form part of the international UHY network of legally independent accounting and consulting firms. "UHY" is the brand name for the UHY international network. Any services described herein are provided by UHY LLP and/or UHY Advisors (as the case may be) and not by UHY or any other member firm of UHY. Neither UHY nor any member of UHY has any liability for services provided by other members.