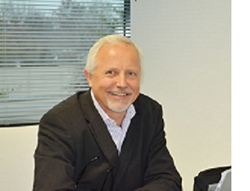 I like the forward-thinking approach Integra is taking
St. Louis, Missouri (PRWEB) December 10, 2014
Herbert Groiss has joined Integra Asset Management (http://www.integra-am.com) as senior vice president for telecommunications leading the operations and sales divisions as the growing project management and service provider expands its business throughout the country and positions itself for significant growth.
Groiss, 54, brings to Integra a wealth of best practices expertise having worked with leading telecommunications and project management companies in executive positions, most recently as senior vice president of operations for the Southeast region with Goodman Networks. Previous to that, he was head of global procurement for Nokia Siemens Networks in North America. He spend the bulk of his career with Siemens Corporation in a variety of leadership positions and led international projects for extended periods in Europe, China and Southwest Asia.
"Our forecast for explosive growth this year dictates that we bring in an outstanding executive to complement our existing leadership and we're delighted to have Herbert on board," said Robert Steward, president of Integra Asset Management. "He gives us visibility into high level enterprises and will continue his relationships to fuel even more growth for our company."
Groiss will help Integra assimilate its new proprietary project management system, Integra Business Intelligence International, into existing projects and help refine processes for other company operations. He joined the company December 1.
"I like the forward-thinking approach Integra is taking to provide solutions by intelligently managing the business with its new software and creating a platform for project management and growth," Groiss said of his decision to join Integra. "I also appreciate the philosophy of building and retaining business relationships that keep the customer at the forefront while providing additional opportunities for Integra."
Integra Asset Management, a division of Fillcor LLC, is a minority-owned SBA 8 (a) certified small business offering technology and product life cycle solutions and project management to commercial and government clients. Its capabilities encompass the complete range of technology solutions, including design, procurement, installation, maintenance, decommissioning and recycling.
Media Contact: Kathleen Siedlecki, 314-775-5297 or ksiedlecki(at)integra-am(dot)com