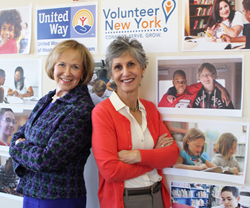 White Plains, N.Y. (PRWEB) December 08, 2014
United Way of Westchester and Putnam and Volunteer New York! have joined forces to provide guidance to children through SmartStart, an initiative which addresses growing concerns for at-risk youth who are not fully engaged in school. The program, now in its fifth year, helps children excel in school by providing truancy intervention, academic support, tutoring, mentoring, and after-school programs.
"Mentoring or tutoring a child is one of the best ways to reinvest in your community," said Alisa Kesten, executive director, Volunteer New York!. "This volunteer initiative is about education today and leaders tomorrow," added Alana Sweeny, president and CEO, United Way. "Every youth deserves someone who they believe cares, and we couldn't be more proud to support this initiative."
The statistics are staggering: In 2013, 59.4 percent of Westchester public school third graders did not meet grade level reading standards, and the total graduation rate was only 83.1 percent. One in five 18-year-olds in Westchester will not graduate with their peers – and this year, SmartStart aims to dramatically improve these statistics.
United Way and Volunteer New York! are looking to recruit 100 new tutors and mentors throughout Westchester and Putnam counties as part of United Way's national push to recruit one million volunteers across the country. Locally, volunteers are most needed in the high-risk communities of Mount Vernon, Yonkers, Peekskill, and Port Chester.
One of the initiative's newest partners, Passage to Excellence Corporation, was established in 2008 to provide social, educational, economic and youth development services for children, youth and families in the City of White Plains who live in disadvantaged environments. The organization is currently working with United Way and Volunteer New York! to develop an after-school program targeted to at-risk youth from Winbrook Public Housing. Together, they will be rolling out a nationally known curriculum called Together for Learning.
"It is our hope that the SmartStart program will help each youth progress academically, socially and emotionally to improve skill development, increase confidence, and encourage success in and out of school," said Frank Williams, White Plains Youth Bureau executive director.
The SmartStart partnership has already made a clear impact in the lives of White Plains youth, and Williams is excited to see the program continue to grow.
"My tutor makes me feel happy and excited, and I can't wait to see her each time," said Bree Washington, 8, a Church Street Elementary School student. "I am thankful to have my tutor," added Michael Alcy, 7, of George Washington Elementary School.
Additional SmartStart partners for the 2014-2015 school year are the Child Care Council of Westchester; The Guidance Center of Westchester; Boys and Girls Club of Northern Westchester; JCY-WCP/Family Service Society of Yonkers; Student Advocacy; Westhab, Inc.; and Westchester Jewish Community Services.
To search for mentoring, tutoring, and reading volunteer opportunities at sites throughout Westchester and Putnam, visit http://www.uwwp.org/smartstart or http://www.volunteernewyork.org/mentor. For more information, call United Way at 914-997-6700 or Volunteer New York! at 914-948-4452.
About United Way of Westchester and Putnam:
For the past 52 years, United Way of Westchester and Putnam has operated with the fundamental belief that all people deserve a quality education, enough income to support a family, and opportunities for a healthy lifestyle. United Way works with agency partners, government, businesses and community leaders to solve problems that are too complex for any one entity alone. All contributions go toward improving the education, income, and health of the children, youth and families throughout Westchester and Putnam. United Way's Hudson Valley Region 2-1-1, covering Westchester and Putnam as well as Dutchess, Orange, Rockland, Sullivan and Ulster counties, answers up to 500 calls and 1,000 online inquiries per day ranging from tax, heating, and mortgage questions to childcare, basic needs, natural disaster and crisis calls. United Way of Westchester and Putnam is at 336 Central Park Ave., White Plains, NY 10606. They can be reached at 914-997-6700 or by visiting http://www.uwwp.org. Follow United Way on Facebook (http://www.facebook.com/UnitedWayWP) and Twitter (@UnitedWayWP) for the latest news and updates.
About Volunteer New York!:
The core mission of Volunteer New York! is to inspire, mobilize, and equip individuals and groups to take positive action to address pressing challenges, support nonprofits and strengthen the quality of life in our community. The organization encourages adults to serve, youth to build character, families to bond, young professionals to lead, mature adults to share their wisdom and businesses to engage through volunteerism. By connecting individuals to nonprofit organizations as well as through organized volunteer projects, Volunteer New York! helps people take action to strengthen the quality of life in Westchester and the Mid-Hudson Valley.
Over 240,000 hours of service were devoted last year to 500 nonprofits at a value of over $7.2 million. In September 2011, The Westchester-based organization was designated one of ten Regional Volunteer Centers in the State of New York, covering Westchester, Putnam, Rockland, Dutchess, Orange, Ulster, and Sullivan counties. Volunteer New York! has also been consecutively designated as a top-rated nonprofit from GreatNonprofits.org from 2012-2014. For more information, visit http://www.volunteernewyork.org/mission.