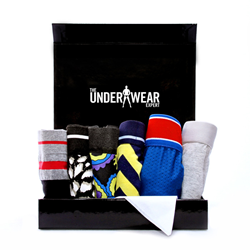 "We will curate your underwear drawer like never before" - Michael Kleinmann, CEO, The Underwear Expert, Inc.
New York, NY (PRWEB) December 09, 2014
The Underwear Expert, a site covering the global men's underwear industry, announced today that they will be launching underwear e-commerce, a highly anticipated addition to their site offering. The site was founded in 2012 by former Freshpair President and COO Michael Kleinmann, who is a prominent expert in the men's underwear industry.
The e-commerce service will be available via subscription, where customers will answer basic questions about fabric, fit, style, and then The Underwear Expert will curate a custom subscription using proprietary technology. Launched via Kickstarter, the company aims to raise funds and awareness prior to their Spring 2015 public launch.
"Our readers email us constantly asking for advice about what to wear, and use our site as an authority when determining what to purchase," said Kleinmann, the Founder and CEO of The Underwear Expert. "Since we are the foremost experts in the category, why not offer that advice to everyone and help curate underwear on a larger scale? Customers are shopping differently than when I started in this industry 14 years ago, and there's no retailer out there with the knowledge and ability to curate underwear the way we will."
The Underwear Expert's Curated Underwear Club will "curate your underwear drawer," according to Kleinmann, in a way never done before.
The Kickstarter can be found here: http://kck.st/1FZnzNp
About The Underwear Expert:
The Underwear Expert provides unique editorial material and comprehensive coverage of the men's underwear market. It is the largest, most respected site in the world covering men's underwear, featuring hundreds of brands from all over the globe. The team is headed by Michael Kleinmann, former Co-Owner, President and COO of Freshpair.com from 2001-2011: a company he took from a start-up in his apartment to the forefront of online intimate apparel sales, as well as the creator of Freshpair's National Underwear Day. Kleinmann is a men's underwear industry expert and has been quoted extensively in print and online, and has made an extensive number of live appearances on television and radio. His credits include Fox News, Bravo's Make Me a Supermodel, The New York Times, Huffington Post, The Washington Post, Men's Health Magazine, and countless others.