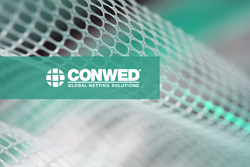 Minneapolis, Minnesota (PRWEB) December 09, 2014
Conwed, the leading plastic netting manufacturer in the world, has been highlighted in the December 2014 issue of the Nonwovens Industry Magazine, published by Rodman Media Corp. As part of the editorial piece "Hygiene Components: growth in the adult incontinence market", Conwed talks about the performance and comfort features its new elastomeric netting, Flat Rebound®, can bring to adult incontinence applications.
Conwed manufactures Rebound®, the leading elastomeric netting in the world. Rebound® is used in composite form with nonwovens and other substrates acting as an alternative to spandex, films and stretchable nonwovens. In hygiene products, it is used in waistbands and side panels in adult incontinence briefs and underwear and in baby training pants.
In 2014, Conwed launched the newest development in its elastomeric netting portfolio, Flat Rebound®. This new configuration with flat joints allows the creation of stretchable and smooth composites for superior comfort and feel. It addressed the demand for having lightweight and breathable composites with no joints to mimic a smooth apparel-type texture. In addition to offering elastomeric netting by itself, Conwed is now commercializing stretchable nonwoven composites powered by Flat Rebound®. The majority of hygiene manufacturers prefer receiving a stretchable composite already made versus incorporating the elastomeric netting themselves, so Conwed developed a new stretch laminate for the hygiene industry.
The following paragrphs are an extract of the editorial piece. Read the full article on the December 2014 digital issue by clicking here.
"Hygiene Components: growth in the adult incontinence market"
By Tara Olivo, Associate Editor
While Conwed has been making gradual modifications of its elastomeric netting portfolio over the last decade, in recent years, the company says it's been focusing on developing new configurations. "With the evolution and dominance of spandex and films, manufacturers not only demand optimal product performance and cost competitiveness but also look for features that could impact end users' skin protection and comfort," Soltero says. "We significantly decreased the weight of our netting and created a flat configuration with enhanced breathability features to satisfy the demand of active adults requesting comfortable and discreet disposable products."
The company is emphasizing the importance of comfort, and Soltero says that it has shifted its focus from matching performance or cost to creating the right bundle of performance-cost-comfort for various market categories. "The adult incontinence market is driving innovation and making companies like ours push the limits of our technology," says Soltero. "It is a growing market, but most importantly, it is a growing market that can provide precise feedback and appreciate not only performance but overall comfort. It is enticing companies to continue improving product performance but also the overall feel and satisfaction of the end user".
For a complete overview of Conwed netting applications in hygiene and disposable consumer products visit http://www.conwedplastics.com/hygiene
About CONWED
Conwed is the leading plastic netting manufacturer in the world. Conwed manufactures extruded, oriented and knitted netting with unique customization capabilities. Headquartered in Minneapolis, Minnesota, Conwed has five manufacturing locations on two continents and a global distribution network.
.