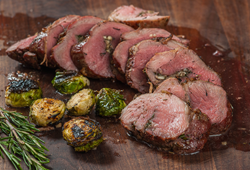 Grilling large expensive cuts of meat does not have to be a stressful experience
Cartersville, GA (PRWEB) December 09, 2014
Today, the grilling experts at GrillGrate introduced 3 recipes that can be easily grilled with a simple combination of technology and technique. As families and friends gather for the holidays the dinner focus turns to larger and more expensive cuts of meat to celebrate being together.
The technology required is a digital internal meat thermometer ($20-$85) and the technique is called the reverse sear. The reverse sear involves slow roasting the meat at low temps (225F-250F)on a grill to a target internal temp that is 10-15 degrees below the target finished temp. The roast is then pulled off the grill to rest and wait until the rest of the meal is ready. A final sear on a hot grill is done for 5-10 minutes just prior to slicing and plating. This produces an evenly cooked roast with a rich flavorful crust cooked to the perfect internal temperature.
Roasted Prime Rib on the Grill: Prime Rib is the grandfather of all roasts and often comes out for the holidays. Not many cuts of meat can rival the grandeur of a beautifully cooked Prime Rib in the center of a holiday table.
Reverse Seared Boneless Leg of Lamb: In this recipe the netting is removed and the meat is divided into two equally shaped and sized portions. The lamb is then seasoned and formed into two mock tenderloin shaped roasts which are tied with butcher twine to retain the shape throughout the cooking process.
Reverse Seared Rack of Lamb: Rack of lamb is either succulent and flavorful or gamey and chewy if not cooked properly. The reverse sear technique helps prevent over-cooking and improves tenderness as opposed to hot and fast grilling.
"Grilling large expensive cuts of meat for the holidays does not have to be a stressful experience," explains Brad Barrett, President of GrillGrate. "I used to feel the pressure- how long will it take? how do I avoid under cooking or worse over cooking? A digital thermometer and the reverse sear process solved my holiday grilling stress."
Link to DropBox Folder for more holiday grilling images.
About GrillGrate:
GrillGrate LLC is based in Cartersville, GA. GrillGrates are manufactured in various lengths and shapes for all popular grills. GrillGrates improve the cooking performance of any grill, including gas grills, charcoal grills, kamado grills and pellet grills. GrillGrates are available at hardware houseware and outdoor retailers as well as online at grillgrate.com. GrillGrates are proudly made in the USA. The GrateTool™ is made in China.