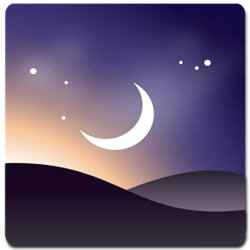 San Jose, CA (PRWEB) December 10, 2014
powered by Intel® Atom™ Processors. Extraordinary, real-time night sky maps and stunning 3D images reveal the majesty of the planets and stars right on mobile device screens.
The award-winning app uses GPS tracking to identify astral bodies by simply pointing the tablet at one point in the sky. It provides a catalog of galaxies, nebulae and over 600,000 stars in a real-time, zoomable sky map. Magnificent 3D renderings of our solar system, complete with realistic landscapes, offer truly spectacular recreations of the view on other planets. Plus, a host of asterisms and illustrations of the constellations from several cultures round out the extensive knowledge of space contained within the app.
Now tablet users can witness the stunning night sky from a variety of astronomical vantage points, all on their high-resolution screens. The lightweight portability of these impressive tablets makes them the smart choice for stargazing. As part of the Intel® Developer Zone, Noctua Software had access to extensive business and technical resources.
"The goal of Stellarium is to reproduce the experience you would get by watching the night sky with naked eyes or a telescope, as realistically as possible", says Guillaume Chéreau, founder of Noctua Software. "The Stellarium Mobile Sky Map app uses the sensitive touch capabilities of Android* tablets with Intel Atom Processors so that users explore the visual wonders of space."
Stellarium Mobile Sky Map is available for immediate download on Google Play: https://play.google.com/store/apps/details?id=com.noctuasoftware.stellarium
About Noctua Software
Noctua Software is a team of expert developers creating mobile games and apps as well as web services with a focus on software development using open source tools and libraries. For more, visit: http://noctua-software.com/apps.
About the Intel Developer Zone
The Intel Developer Zone supports independent developers and software companies of all sizes and skill levels with technical communities, go-to-market resources and business opportunities.
To learn more about becoming an Intel® Software Partner, join the Intel Developer Zone.
Intel, the Intel logo and Intel Inside are trademarks of Intel Corporation in the U.S. and/or other countries.
*Other names and brands may be claimed as the property of others.
Copyright © 2014 Intel Corporation. All rights reserved.