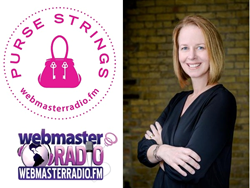 Maria has supported women (and a few good men) in business through PurseStrings for over 8 years, I think this puts her at the head of the class. She is a visionary leader, innovator and a true expert and champion!"
Boca Raton, FL (PRWEB) December 09, 2014
"PurseStrings," the award-winning marketing-to-women radio program on WebmasterRadio.FM - the premiere Internet business radio network in the B2B marketplace - recently marked its 300th show and eight years of delivering insight on the largest and richest consumer market in the country.
Hosted by Maria Reitan, president and chief strategy officer at lifestyle agency Lola Red, the weekly 30-minute show streams live on WebmasterRadio.FM and is offered via podcast on iHeart Radio, iTunes, Mobilecast and RSS feeds. Listeners can get the latest in marketing research, consumer trends, social and digital innovations, leadership and empowerment.
PurseStrings joined the WebmasterRadioFM programming lineup in October 2007 and is now among the longest-running shows on the network. As Reitan heads into her ninth year as PurseStrings host, she notes that the marketing landscape has changed dramatically.
"The rise of social media opened the door to two-way consumer conversations; mobile created information on demand and an opportunity to engage at a critical point of influence; snack sized info-bites are sparking shorter but still vitally important interactions," said Reitan. "I'm honored to have been on the front lines of bringing the new and the next to PurseStrings listeners, and sharing that insight with my clients at Lola Red."
"An expert is defined by having studied a topic for more than 10,000 hours. Well Maria has supported women (and a few good men) in business through PurseStrings for over 8 years, I think this puts her at the head of the class. She is a visionary leader, innovator and a true expert and champion!" said Jeffery Tobias Halter, past PurseStrings guest and President YWomen, author of Winning With Women, The almost Complete Business Guide (publish date March 2015)
The show has received some of the highest accolades in the industry, including a PR News Platinum award for Best Podcast. It also won an Anvil award from San Francisco Public Relations Society of America (PRSA); a Classics award from Minnesota PRSA; a PRSA Bronze Anvil award and three merit awards, and a Bronze Superior Achievement in Branding and Reputation Excellence (SABRE) certificate of excellence from trade journal The Holmes Report.
"PurseStrings has built a loyal following over the years," says Brandy Shapiro-Babin, president and co-founder of WebmasterRadio.FM. "Maria has featured some of the biggest names in marketing-to-women, and the show is a bedrock of our network lineup."
Past PurseStrings guests have included:
Barbara Annis, founder of Barbara Annis & Associates; author of Gender Intelligence and Work with Me
Heather Armstrong, founder of dooce.com
Joanna Barsh, McKinsey & Co. Centered Leadership Project; author of "How Remarkable Women Lead"
Elizabeth Battaglino-Cahill, president and CEO, HealthyWomen.org
Madeline DiNonno, CEO, Geena Davis Institute on Gender in Media
Carol Evans, president and founder, Working Mother Media
John Gerzema, author of The Athena Doctrine: How Women and the Men Who Think Like Them Will Rule the Future
Janet Hanson, founder 85 Broads
Melissa Lavigne-Delville, former NBC Universal vice president of strategic insight and trends
Jim Lecinski, Google's vice president of U.S. Sales /Service and author of e-book, Winning the Zero Moment of Truth (ZMOT)
Charlene Li, Altimeter Group founder, author of Open Leadership and Groundswell
Jacki Zehner, president and chief engagement officer, Women Moving Millions
About Lola Red
Lola Red was founded in Boulder, Colo. in 2001 by Alexis Walsko, and continues to thrive by providing exceptional results and service to clients, media and consumers. Whether a client needs hyperlocal, regional or national public relations, marketing or consumer activation services, Lola Red's philosophy is to meet and exceed goals. Lola Red serves clients in the retail, health & wellness, fitness, fashion & beauty, home, food & beverage segments at its headquarters in Minneapolis. For more information, visit http://www.lolaredpr.com.
About WebmasterRadio.FM
WebmasterRadio.FM lifts the "veiled curtain" of the Internet, bringing the business community together through an interactive radio network. Its listeners are a global group, comprised of everyone from corporate executives and decision makers to small and mid-sized businesses and individual entrepreneurs. WebmasterRadio.FM's stellar line-up of radio programming includes; "Market Edge" with Digital Influence Group Chairman Glenn Engler , "Purse Strings" with Lola Red president Maria Reitan and the "CyberLaw and Business Report with Internet Law Center Founder Bennet Kelley. To tune into WebmasterRadio.FM's live content or check out the show lineup, please visit http://www.WebmasterRadio.FM.