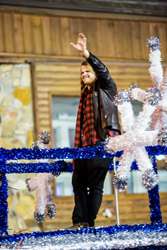 Gatlinburg, TN (PRWEB) December 09, 2014
Friday, December 5, 2014, Gatlinburg distributed 20,000 red Rudolph noses in attempt to break a Guinness World Record during the 39th Fantasy of Lights Christmas Parade. More than 70,000 people lined the Parkway to help break the record and to catch a glimpse of 2014 American Idol winner Caleb Johnson who hosted the event.
"We are thrilled with the enthusiasm of our visitors. They are as excited to break a record as we are," said Marci Claude, Gatlinburg PR Manager. "Having 2014 American Idol Caleb Johnson participate as Grand Marshal just put the whole parade over the top."
Parade goers were asked to wear a red Rudolph nose simultaneously in attempt to break the current world record of 16,092 red noses, set in Australia in 2011. They were also treated to more than a mile long parade of floats, marching bands, dancers, equestrian units, entertainment and of course, Santa Claus.
The 39th Fantasy of Lights Christmas Parade and Gatlinburg "Nose" Christmas is sponsored by Ripley Entertainment and Guinness World Records. To see pictures check out Visit Gatlinburg on Facebook and join the conversation with #GatlinburgNoseChristmas. For more information about Gatlinburg, call (800) 588-1817 or visit http://www.gatlinburg.com/christmas.