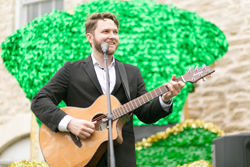 Greatness isn't greatness in a vacuum. Surround yourself with the right people!
Bend, OR (PRWEB) December 09, 2014
NBC's The Voice brought a fresh approach to the singing competitions on TV. And now in season 7 they have brought a fresh voice in Luke Wade. From a small town in Texas, Luke has been developing his soulful sound since he was a child – even though he didn't pick up an instrument until much later in life.
While most of America has learned of Luke from his time on the Voice, you should keep getting to know him through his sophomore album The River. We were pleased that Luke took time out of his hectic schedule to chat with use about it all!
Breedlove: What a crazy trip you've been on these past few months. If you could sum up your experience on The Voice in one word what would it be?
Luke Wade: Transcendent
BL: Do you have a favorite performance you've done so far?
LW: "Thinking Out Loud" by Ed Sheeran.
BL: What is the biggest takeaway from the show?
LW: Greatness isn't greatness in a vacuum. Surround yourself with the right people!
BL: What did you learn most from coach Pharrell?
LW: Don't overthink, over feel.
BL: You launched an album The River this spring. Any chance we'll get to hear an original on the show?
LW: We will be singing originals on the finale!
The full interview as well as video of his favorite Voice performance and more can be seen on the Breedlove website.
# # #
BREEDLOVE STRINGED INSTRUMENTS
Since 1990, Breedlove has been a passionate and innovative builder of remarkable stringed instruments, spurred by a desire to challenge convention and build the instruments of tomorrow. Breedlove's master luthiers craft acoustic guitars, mandolins, basses, and ukuleles for artists seeking self-expression and liberation through music, but make no mistake: Breedlove's world-class luthiers don't just build instruments, they design distinctively crafted sound.