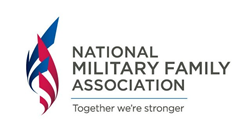 Can military connected women have it all?
Alexandria, VA (PRWEB) December 09, 2014
The National Military Family Association (NMFA), a nonprofit that works to strengthen and protect military families, is hosting its 2014 Leadership Luncheon today. The event, sponsored by the Association of Military Banks of America, will celebrate NMFA's 45th anniversary, and will tackle the question, "Does a Work-Life Balance Exist for Women in the Military Community?"
"Each year, we try to ask important questions impacting our military families," said NMFA Executive Director, Joyce Raezer. "This year, our focus is on women in the military community. Whether that is a service member or military spouse, we want to know if our panelists believe a work-life balance exists."
Panelists at this year's event will include:

Lieutenant General Flora D. Darpino, The Judge Advocate General, U.S. Army
LaKesha Cole, 2014 Armed Forces Insurance Military Spouse of the Year®
Reda Hicks, 2014 Armed Forces Insurance Army Spouse of the Year®
Claudia Myers, Writer/Director of Fort Bliss & American University Professor
"We've seen so much in the media recently regarding women in the working world. In particular, CEOs of large companies getting asked the tough questions about how they stay balanced," said Raezer. "We want to know whether our female service members and military spouses feel like they have a balance. Can military connected women have it all?"
The 2014 Leadership Luncheon will take place at the Sheraton Pentagon City. Those who can't attend can follow the conversation on Twitter using the hashtag #MilFamBalance.
The 2014 Leadership Luncheon is also sponsored by ValueOptions®, our Family Champion Supporter, as well as Health Net® and UnitedHealthcare®, our Family Patron Supporters.
About the National Military Family Association
The National Military Family Association is the leading nonprofit dedicated to serving the families who stand behind the uniform. Since 1969, NMFA has worked to strengthen and protect millions of families through its advocacy and programs. They provide spouse scholarships, camps for military kids, and retreats for families reconnecting after deployment and for the families of the wounded, ill, or injured. NMFA serves the families of the currently serving, retired, wounded or fallen members of the Army, Navy, Marine Corps, Air Force, Coast Guard, and Commissioned Corps of the USPHS and NOAA. To get involved or to learn more, visit http://www.MilitaryFamily.org.