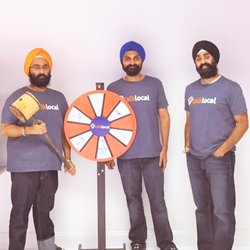 There's a lot of energy and excitement at TalkLocal right now, and with all that we have planned, that won't change anytime soon.
Washington, DC (PRWEB) December 10, 2014
The founders of talklocal, the free virtual concierge service, report that their company has undergone a dramatic increase in staff size after raising $4m in Series A funding.
The startup began in a home basement in Potomac, MD with a handful of staff, including founders Gurpreet Singh, Aman Bakshi, and Manpreet Singh. Now, it has doubled in size in a single fiscal quarter, adding 8 full-time employees, 4 contractors, and 10 interns.
Most notable is the previously announced addition of Yodle, Living Social vet Paul Murskov who signed on as VP of Sales in October. Promoting from within, TalkLocal also brought on former intern Dallea Caldwell to lead its PR and social media efforts. Many of the new hires are programmers, graphic designers, and sales reps.
"There's a lot of energy and excitement at TalkLocal right now, and with all that we have planned, that won't change anytime soon", said Paul Murskov.
TalkLocal recently marked its 1 millionth call made on behalf of consumers and, in September alone, it saw its national footprint grow by 37%. Next on the team's agenda: launching its iPhone and Android apps.
What's unique about the service is its conversation-driven platform. It matches and connects businesses and consumers by phone, based on location, service need, availability, and even consumer ratings and reviews.
To hear from an available service professional, consumers simply…
1) Enter location, availability, and service details at http://www.talklocal.com
2) Standby as TalkLocal's algorithm rapidly filters through the city's thousands of businesses, finding the best match based on…

Proximity
Availability
Online consumer ratings/reviews
Social media interactions
Call analytics
3) Pick up the phone to talk to the right local pro, right now.
In about 90 seconds, consumers talk to a pro who wants to help on the consumer's schedule. That's at least 50x faster than other local services marketplaces out there, according to the TalkLocal team's own research. TalkLocal has served consumers in 49 states to date and features 50 plus service categories like roofing, snow removal and heating & cooling,
TalkLocal conversations occur over a secure line to protect consumer privacy.
"I'm a small business owner first, and a computer programmer second. I owned a computer repair shop and struggled with local marketing personally. So, TalkLocal is really for small business owners, by a small business owner and that's why we've been so successful," said TalkLocal founder, Gurpreet Singh.
TalkLocal raised $4 million in venture funding, has served in 49 states and recently marked its one millionth service request call. Connect on Facebook and Twitter.