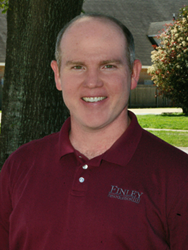 New Iberia, LA (PRWEB) December 08, 2014
Dr. James Finley now provides a new type of gum recession treatment, the Chao Pinhole Surgical Technique (PST™), to patients in New Iberia, LA. The PST™ procedure protects oral health by reducing the risk of gum infection, tooth damage and adverse side effects associated with invasive surgery. Seeking treatment for gum recession is an important step to diagnosing and treating oral health issues, such as periodontal disease, that are typically associated with gum recession.
The PST™ procedure offers Dr. Finley's patients a less-invasive alternative to gum grafting. During the procedure, Dr. Finley corrects gum recession by making a small incision in the receding tissue and using a specialized tool, which is small enough to reach through the pinhole incision, to carefully loosen the gum tissue. Once the tissue is loosened, it can be pulled into a healthier position where it will protect the teeth. Patients experience much less bleeding and pain after PST™ than with traditional gum graft surgery. Risk of infection and other complications experienced with traditional treatment for receding gums is much lower with PST™.
Treatment for gum recession offers Dr. Finley's patients various health benefits. Receding gums can leave teeth exposed to infection and damage. Recession can also cause undesirable symptoms such as tooth sensitivity. The PST™ procedure can correct these issues. Before the treatment, Dr. Finley can also identify whether other oral health problems contributed to the recession. Patients in New Iberia, LA, may suffer from receding gums for various reasons, but gum recession often occurs in association with other oral health problems, such as bite misalignment, tooth clenching, periodontal disease or poor brushing habits. If this is the case, Dr. Finley can diagnose the health issue and recommend a course of treatment.
Changes in the length of the teeth or the appearance of the teeth toward the gum line are common with gum recession and may indicate periodontal disease. Patients who notice signs of gum recession are encouraged to schedule a consultation with Dr. Finley as soon as possible. To schedule an appointment for receding gums treatment near New Iberia, LA, call Dr. Finley's office or visit his website.
About the Practice
Finley Periodontics is a periodontal practice offering personalized dental care for patients in Lafayette, LA. Dr. James M. Finley received his D.M.D from the University Of Mississippi School Of Dentistry and his certificate in Periodontics from Louisiana State University School of Dentistry. He went on to earn his M.S. in oral biology from Louisiana State University while serving as a full time assistant professor. Dr. Finley is part of one percent of dental professionals providing the LANAP® FDA cleared laser procedure for gum disease and periodontal treatment. To learn more about Finley Periodontics and their dental services visit their website at http://www.finleyperio.com and call (337) 504-7263.