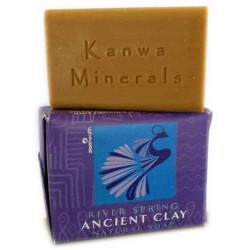 San Fancisco (PRWEB) December 10, 2014
San Francisco-based body care company Zion Health completed a major product redesign this week, using an in-house graphics team to create eye-catching new sleeves for their flagship line of ancient clay soaps. The new packaging includes flashy tie-dyed patterns and Native American stories selected to motivate and inspire. Four fragrances of the redesigned soaps are available online at AdamaMinerals.com, and the new visual flair would make these vegan soap bars unique gift ideas.
Zion Health has produced their one of a kind line of ancient clay soaps since 2007, and this redesign is the biggest change in packaging in the company's history. The artists behind the soap sleeves finished the redesign just in time for the holiday season, so these unique gift ideas are included in the many holiday gift packs on the company's website.
Adding Native American stories to their packaging is a nod to the traditional skin care treatment included in each Zion Health soap bar, as well as an acknowledgement of the native inspiration of the soap's design. Zion Health soaps are made with a high grade nutrient rich clay called Calcium Montmorillonite, known in Native American languages as Kanwa or Ee-Wah-kee. This clay has been used for centuries by Native American tribes to heal many ailments of the skin and internal body.
The American Journal of Clinical Nutrition published a study in 1991 on the use of clay amongst the Pomo Indians of California, and found that montmorillonite clay had powerful detoxifying health benefits beyond just skin care. Pomo Indians would mix the clay in with their daily meal of acorns, which contained a dangerous level of toxic plant compounds, and the clay actually deactivated the toxins and made the mixture digestible and nutritious.
Each Native American story included on the Zion Health soaps was chosen to reflect the soap's name and ingredients. For instance, the Golden Sun soap bar includes the Cherokee legend of how Fox, Possum and Buzzard found the Sun hanging from a tree in the time when the world was dark.
Zion Health's new soaps are now available online at AdamaMinerals.com and at health food markets and co-ops throughout the United States and Canada. Zion provides its consumers with pure skin and body care products that are vegan, free of parabens, and formulated using certified organic ingredients whenever possible.