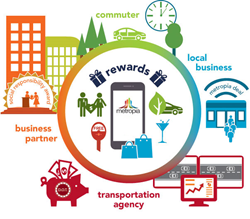 smarter and safer travel decisions earn rewards that are provided by community and business partners in participating cities
Tucson, AZ (PRWEB) December 10, 2014
Yi-Chang Chiu, an associate professor of civil engineering at the University of Arizona, has received a patent for the "active traffic and demand management system" he created. Chiu is the founder of Metropia Inc., a Tucson-based startup with roots in the University of Arizona and an exclusive license to the patent.
The technology involves a citywide "ecosystem" connecting commuters, businesses, employers and governmental agencies to help drive improvements in metro mobility.
An essential element is Metropia's mobile app, which gives commuters advanced traffic-prediction and vehicle-routing technology so that they can make choices to help alleviate traffic by changing their traditional travel routes and times. Those who make smarter and safer travel decisions earn rewards that are provided by community and business partners in participating cities.
The idea for incentivizing commuters to travel at different times to help balance traffic load grew from its initial phases of definition and conceptualization in 2011 to what is quickly becoming a key platform for an advanced urban traffic solution. Tech Launch Arizona, the commercialization arm of the University of Arizona, was instrumental in helping to protect the intellectual property and guide the patent application to completion.
Chiu originally pitched his idea in May 2011 at Startup Tucson's incubator event, Startup Weekend, winning second place. Building on this momentum and initial seed funding from various sponsors, the concept has evolved into a thriving, innovative company with more than a dozen employees and offices in New York City and Austin, Texas.
Chiu explains the mission of Metropia as "a new way of thinking of how we manage our urban transportation in the future," one that calls for all community stakeholders to contribute to tackling traffic congestion.
The patent itself can be found at http://www.google.com/patents/US8744734.
The latest news on Metropia's technology is posted on a blog at http://www.metropia.com/blog or visit the full website at http://www.metropia.com.