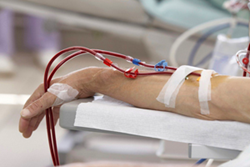 If you've been injured and would like to learn more about filing a lawsuit, contact The Oliver Law Group for a free lawsuit review by calling toll free 800-939-7878 or visiting www.legalactionnow.com
Detroit, MI (PRWEB) December 13, 2014
The Oliver Law Group P.C. reports that recalled GranuFlo lawsuit and NaturLyte lawsuit filings continue to mount in the U.S. District Court, District of Massachusetts where pretrial proceedings are underway for the litigation. The federal court's master case list shows that GranuFlo and NaturaLyte lawsuits climbed from 2,127 as of October 15 to 2,200 as of November 17. The GranuFlo lawsuits were filed on behalf of dialysis patients or their survivors who contend they suffered heart attacks, strokes or sudden cardiac death after being administered the drugs GranuFlo or NaturaLyte, which are used to treat acute and chronic renal failure during hemodialysis. The personal injury and wrongful death complaints contend that Fresenius Medical Care North America, which manufactures GranuFlo and NaturaLyte, warned clinics that it owned about the risks of using the two acid concentrate products in November 2011 but did not warn non-Fresenius clinics until a later date. (In re: Fresenius GranuFlo/Naturalyte Dialysate Litigation, MDL No. 2428)
[jpml.uscourts.gov/sites/jpml/files/Pending_MDL_Dockets_By_District-October-15-2014.pdf, October 15, 2014]
[jpml.uscourts.gov/sites/jpml/files/Pending_MDL_Dockets_By_District-November-17-2014.pdf, November 17, 2014]
The U.S. Food and Drug Administration (FDA) recalled GranuFlo and NaturaLyte in 2012. Prior to the Granuflo recall, Fresenius Medical Care alerted clinics and their patients in March 2012 that an inappropriate prescription of the medications can lead to metabolic alkalosis, a condition that causes elevated bicarbonate levels in dialysis patients. The high bicarbonate levels could contribute to low blood pressure, heart attacks, strokes, hypercapnia (carbon dioxide poisoning), hypoxemia (low oxygen in the blood) and sudden cardiac death. In May 2012, the FDA issued a safety alert regarding the impact of that acid concentrate products, including GranuFlo and NaturaLyte, have on patients' bicarbonate levels. The following month, the FDA issued a Class 1 recall for GranuFlo and NaturaLyte.
[fda.gov/Safety/MedWatch/SafetyInformation/SafetyAlertsforHumanMedicalProducts/ucm305630.htm, June 27, 2012]
[fda.gov/MedicalDevices/Safety/ListofRecalls/ucm309990.htm, FDA, February 20, 2014]
Court documents indicate that two GranuFlo lawsuit bellwether trials have been scheduled by U.S. District Judge Douglas P. Woodlock, who is managing the multidistrict litigation in the Massachusetts federal court. The first Granuflo lawsuit trial has been scheduled for January 11, 2016 and the second Granuflo lawsuit trial is slated for February 16, 2016. Judge Woodlock instructed counsel for the plaintiffs and defendants to make sure that the initial pool of GranuFlo cases includes issues such as whether a plaintiff's alleged injury occurred before or after November 4, 2011. The GranuFlo lawsuits allege that Fresenius sent an internal memo dated November 4, 2011, to dialysis treatment centers that Fresenius owned advising doctors to monitor the bicarbonate levels of their patients during dialysis. The GranuFlo complaints purport that Fresenius did not notify doctors and patients at non-Fresenius dialysis clinics about the problem until March 2012.
(In re Fresenius GranuFlo/Naturalyte Dialysate Litigation, MDL No. 2428)
Court records indicate that Fresenius Medical Care has filed a motion asking Judge Douglas P. Woodlock to dismiss more than 120 cases filed by Mississippi plaintiffs based on Mississippi's three-year statute of limitations. Fresenius argues that the Mississippi cases were filed more than three years after the date of the plaintiffs' alleged injury or death. In their response to Fresenius' motion, the Mississippi plaintiffs asked the judge not to dismiss the cases because there are questions of fact and there are exceptions to Mississippi's statute of limitations, such as a discovery rule that allows for an inquiry on a case-by-base basis of a plaintiff's discovery. The Mississippi statute also has a fraudulent concealment exception and plaintiffs contend that Fresenius concealed the information about GranuFlo and NaturaLyte until 2012 when Fresenius publicly disclosed the issues with their dialysis solutions.
(In re Fresenius GranuFlo/Naturalyte Dialysate Litigation, MDL No. 2428)
There Is Legal Help If You Suffered Granuflo Naturalyte Heart Problems
If you or someone you love suffered a heart attack, stroke or other potentially deadly heart problem following the administration of GranuFlo or NaturaLyte, you can take action. Alleged victims of GranuFlo heart problems can trust The Oliver Law Group P.C. to aggressively represent their interests against Fresenius Medical Care. Please contact one of our GranuFlo recall lawyers today for a free, no obligation GranuFlo lawsuit review of your case. If you have a valid Granuflo lawsuit claim and decide to pursue your GranuFlo| NaturaLyte lawsuit, you can be confident that the legal staff at The Oliver Law Group P.C. will work to ensure that you are treated fairly and receive the justice you deserve.
About The Oliver Law Group P.C., Class action Lawsuits And Filing A Granuflo Lawsuit.
The Oliver Law Group P.C. is a different kind of national law firm. One that focuses on the needs of the injured first. A compassionate law firm dedicated to fighting for the rights of victims and their families, and doing everything necessary to ensure those rights.
The experience of a large firm. The 1-on-1 dedication of a small firm. A reputation built on trust.
Experience. Dedication. Trust. The Oliver Law Group P.C.
If you've been injured and would like to learn more about filing a Granuflo Lawsuit, turn to the law firm with the Experience, Dedication, and Trust you deserve. Contact The Oliver Law Group P.C. for your free Granuflo Lawsuit case review by calling toll free 800-939-7878 today.