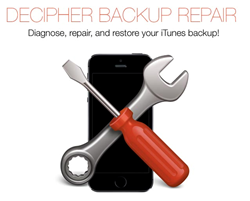 Decipher Backup Repair worked perfectly, fixing my corrupt iPhone backup with the push of a button. Apple support could not fix my backup, suggesting that all possible solutions had been exhausted. Decipher Backup Repair saved the day! - Jason Scroggin
San Francisco, CA (PRWEB) December 10, 2014
Decipher Media, a iOS data management software company, recently released Decipher Backup Repair to fix the growing number of corrupt iPhone, iPad, and iPod Touch backups. After diagnosing and repairing the backup with their custom software, customers can restore the corrupt backup using iTunes.
"We were seeing more reports of the dreaded 'iTunes could not restore because the backup is corrupt' error after iPhone owners were exchanging their phones through the Apple iPhone 5 Battery Replacement Program," said Co-Founder and lead developer Kelly Wilkerson. "Soon after, we did extensive research and realized that the corrupt iTunes backup errors were much more widespread than we ever realized."
Upgrades and iPhone Exchanges Lead to Lost Data via Corrupt Backups
Decipher Media began to notice many users who came to them after purchasing iPhone 6 devices. The iPhone users traded in their older iPhones for a new iPhone 6 only to find their entire iPhone backup corrupt when attempting to set up and restore to their new device. As a result, users lost all their valuable data including text messages, photos, contacts, notes, and voice memos. Apple currently provides no solution for the corrupt backup errors and lost data pain point.
The newly released Decipher Backup Repair has been an instant hit with iPhone users.
"I am so grateful for Decipher Backup Repair for restoring all my phone data that Apple said was un-recoverable. Amazing customer support! I couldn't recommend this company and their products enough," said customer Sara Winstead, Utah.
"This program is pure magic! Worth every penny! I had 5 backups all saying corrupt in iTunes while trying to set up my new iPhone 6 and I spent two days trying different third party apps, all with limited success. This slice of heaven scanned, repaired, and fixed all my problems in under an hour. Thank you Decipher Backup Repair for saving all my photos, contacts, and text messages," said Ashton Bailey, Hawaii.
Additional product testimonials available at http://deciphertools.com/testimonial.html
How Decipher Backup Repair Works - Three Simple Steps
Decipher Backup Repair runs locally on the user's computer, keeping all of the data private.
1) Install and run the Decipher Backup Repair free trial on a either Mac or Windows computer.
2) After the error logs are generated a user has the option to upgrade by purchasing a license code.
3) After entering the license code, the backup will be repaired and a user can then restore their device from the new "Decipher repaired" backup. The user's original (corrupt) backup remains on their computer unedited.
"We're big fans of Apple and their products and we're longtime iPhone users ourselves," says lead UI/UX designer and co-founder Jay Walsh. "The goal here is to give fellow iPhone users and also Apple Support a tool that solves this pain point and enables any iPhone user to successfully recover and restore their corrupt iTunes backup."
Price and Availability
Available now, Decipher Backup Repair sells for $29.99 (U.S.) The software is a digital download at http://www.deciphertools.com and runs on both Mac and Windows computers.
About Decipher Media
Based in San Francisco and Phoenix, the Decipher Media Team is committed to helping users manage their iPhone data. The Company's suite of tools enable users to take charge of their iPhone data and enables anyone to save and recover text messages, voicemails and other data to their computers. For more information, visit http://www.deciphertools.com.