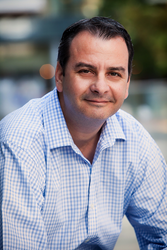 Together we will show US retailers and brands how they can leverage Marketyze's unique marketing intelligence platform to compete profitably in an Omni-Channel, price-transparent and price-sensitive environment.
Phoenix, AZ (PRWEB) December 09, 2014
Marketyze, an international leader in advanced pricing, product assortment and promotion intelligence solutions, has announced the appointment of two veteran ecommerce executives to lead the expansion of the Company's US sales and marketing efforts. Strategically located to serve US retail clients, manufacturers, and strategic partners, Amy Harich of Tampa, FL has joined Marketyze as Vice President of Marketing and Chance Lipsky of Phoenix, AZ as Senior Director of Sales. They will work directly with Marketyze's CEO, Onn Manelson, to bring Marketyze's unparalleled benefits to US retailers so that they can strategically and dynamically position themselves against their relevant competitors.
Amy Harich was most recently President of ScreamEngine, an idea company specializing in corporate positioning, advertising, PR, events and marketing strategies. She founded ScreamEngine in order to help make brands more distinctive, memorable and, most importantly, profitable. Her clients included those in the promotional, consumer-packaged goods, home improvement and consumer electronics fields. Amy has held marketing leadership positions at Woot!, CPG, IC Intracom, Catalina Marketing and, most recently, was the Chief Marketing Officer of Outbid, an interactive online auction that connects buyers and sellers in a fun, social, gaming atmosphere.
Chance Lipsky has a long and successful track record of providing enterprise-level technology solutions to some of the world's largest online retailers, manufacturers, and service providers, including Fortune 500/1000 companies and a large segment of the Internet Retailers 500. Just prior to joining Marketyze Chance was the Sales & Business Development Executive at Indix, the world's biggest SaaS, Big Data, All-in-One Product Intelligence Platform. He successfully launched Indix into the eCommerce market. He has also held key sales roles at Boxstar Media, Winbuyer, CPG, and Sentry Insurance.
"I look forward to working with Amy and Chance, both well-connected industry insiders who understand firsthand the challenges faced by retailers in today's hyper-competitive retail marketplace," said Onn Manelson, CEO of Marketyze. "Together we will show US retailers and brands how they can leverage Marketyze's unique marketing intelligence platform to compete profitably in an Omni-Channel, price-transparent and price-sensitive environment."
"My years in the industry have taught me that the retail landscape is constantly evolving, and the need to make immediate pricing, product assortment and promotion decisions are imperative. I believe that Marketyze's robust platform provides tremendous advantages to retailers by providing real-time, comprehensive, and accurate data in seconds," said Amy Harich. "I am looking forward to helping Marketyze clients and partners execute winning pricing and promotional strategies."
"It's simply a fact of life that any delayed response to the daily changes in retail reality means a loss of revenues, eroding margins, and lower profitability. There are solutions out there, but nothing that matches the accuracy and extensive coverage that Marketyze provides." said Chance Lipsky."I believe that US retailers will quickly understand and embrace the unique value that Marketyze brings them."
_______________________________________________________________________________________
About Marketyze
Marketyze provides advanced competitive pricing intelligence, inventory optimization, and merchandising solutions to help retailers, e-tailers, and manufacturers execute winning pricing, assortment and promotional strategies. Marketyze tracks and monitors millions of products in real-time via a cloud-based solution, providing actionable data to improve pricing, buying and assortment decisions.
Marketyze works with leading global retail partners such as BestBuy, eBay, Sears Canada, and Office Depot International to turn Big Data into huge margin maximization opportunities. Marketyze was founded in 2011 by a group of seasoned e-commerce executives with deep domain expertise in semantic site search and online price comparison. Marketyze has offices in Tel Aviv, Israel, Phoenix, AZ, and Tampa, FL. For more information, please visit marketyze.com. Marketyze will be showcasing the entire suite of solutions at the National Retail Federation's NRF Big Show January 11-13 in New York City.