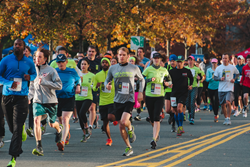 "The RACE FOR A CAUSE™ is the largest Corporate Social Responsibility (CSR) initiative of Acumen Solutions, and the perfect way to bring people together, while maximizing the impact of our community outreach initiatives."- David Joubran, President and CEO
MCLEAN, VA (PRWEB) December 10, 2014
For the past six years, the DC-metro area has looked forward to a very special event hosted by Acumen Solutions, the trusted leader in Enterprise Cloud Transformation and a leading supporter of community outreach initiatives. The Acumen Solutions Race for a Cause™ 8k and 1-Mile Fun Run, held in Arlington, VA, is an annual event that raises proceeds for local charities. This year's event, held on October 19th, attracted more than 3,000 registrants and raised over $275,000. This year's race also marked a major achievement for Acumen Solutions, as the event exceeded $1million in total proceeds. These proceeds have been distributed to over 25 local nonprofit charities since the race's inception in 2009.
"The Race for a Cause is the largest Corporate Social Responsibility (CSR) initiative of Acumen Solutions, and year after year we continue to increase our proceeds," states David Joubran, President and CEO of Acumen Solutions. "Since our company's inception, we have been committed to giving back as both business and community leaders, and we have found that our race is the perfect way to bring people together, while maximizing the impact of our community outreach initiatives."
One hundred percent of the net race proceeds are allocated to the qualifying nonprofits, and Acumen Solutions also donates the time of its employees in order to promote and execute this annual event. Over the past six years, Acumen Solutions' innovative approach to the fundraising for this event has greatly increased race proceeds, sponsors, and registrants. The goal of this event is to not only raise awareness and funds for nonprofit partners, but also to host an event that engages people and enables all participants to experience the impact to the community. The Race for a Cause has continued to exceed its goals, while also increasing the return on investment for its valued sponsors. Multiple sponsors have invested in the event since its inception, and continue to do so as a sign of their belief in Acumen Solutions' CSR initiatives.
To date, Acumen Solutions Race for a Cause™ has raised more than $1,000,000 for 25 local charities, and attracted more than 15,300 race participants.
2014 Nonprofit Beneficiaries include:
American Childhood Cancer Organization
Boys and Girls Club - Alexandria-Olympic Branch
Golden Retriever Rescue, Education & Training
Literacy Council of Northern Virginia
National Fatherhood Initiative
Ronald McDonald House
Shelter House
The Reading Connection
The Women's Center
Young Playwrights' Theater
In 2014, Acumen Solutions pulled together an incredible list of esteemed area sponsors whom they would like to thank:
2014 DIAMOND LEVEL SPONSOR
The Meltzer Group
2014 PLATINUM LEVEL SPONSORS
Salesforce
People Stretch Solutions
Robert G. Hisaoka
Watkins Meegan
2014 GOLD LEVEL SPONSORS
Allcovered - It Services From Konica Minolta
Arcland Property Company
Jones Lang Lasalle (JLL)
Lookthink
Redpeg Marketing
Tobin O'connor & Ewing
2014 SILVER LEVEL SPONSORS
Agility Technologies
Birst
Carahsoft Technology
CityBridge Foundation
Clarabridge
Coresphere
Cubesmart – Bristow, VA, Store
Halt, Buzas & Powell, Ltd.
Inscope International
Lindsay Automotive Group
Paycom
Perspecsys
Suntrust Bank
United Bank, Inc.
Additional Resources for Acumen Solutions Race for a Cause™:

About Acumen Solutions Corporate Social Responsibility (CSR) program
The mission of the Acumen Solutions Corporate Social Responsibility (CSR) program is to maximize impact by providing financial, intellectual, and human capital to select nonprofit partners that inspire our employees. Our innovative approach is employee driven and is focused on supporting deserving charities located where our employees live, work, and volunteer. Our community support takes three forms: funding, pro-bono service (training and skills), and hands-on service (human capital).
About Acumen Solutions
Acumen Solutions is the trusted leader in Enterprise Cloud Transformation, helping organizations realize dramatic improvements in productivity and profitability through innovations in business and technology. For over 15 years, Fortune 500 companies and government agencies have relied on our global consultants to deliver cloud solutions that yield exceptional results. We apply this same focus on results to our unparalleled social responsibility program, generating sustainable impact across our local communities. For more information, please visit our website at http://www.acumensolutions.com or follow us on Twitter at @AcumenSolutions.