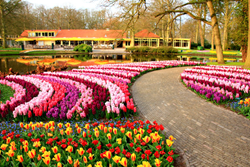 If dreaming of a White Christmas makes you blue, convert your pale dream to a riot of color with a spring 2015 visit to the glorious tulip fields of Holland on a boutique, small-group tour with Intimate France Tours
San Francisco, CA (PRWEB) December 10, 2014
The Intimate France group (a maximum of eight travelers) spends most of a day at Keukenhof before embarking on a 12-day circuit through Netherlands and Belgium that is equal parts world-class art, exquisite dining and charming town and village architecture unique to the Low Countries.
Along the way, enjoy the comfortable inns and hotels, mostly family-run and located in city centers, and appreciate the attention to detail and personal service that Intimate France founder-owner, George Nevin, provides. Transport is by comfortable, nimble eight-passenger van.
The tour begins Sunday, May 3, at a hotel adjacent to Amsterdam's Schiphol Airport, and concludes after 12 full days and 12 nights, stopping overnight in Delft, Amsterdam and Deventer, Netherlands, and Bruges, Belgium. For further information, see http://www.IntimateFrance.com/netherlands_2015.html
"If dreaming of a White Christmas makes you blue, convert your pale dream to a riot of color with a spring 2015 visit to the glorious tulip fields of Holland on a boutique, small-group tour with Intimate France Tours, " says George Nevin.
Vast displays of flowers – seven million, in lush indoor and outdoor settings – blanket the grounds of the world-renowned Keukenhof Gardens, Netherlands.
Highlights include:

Four nights in Amsterdam, home of world-class art (Rembrandt, Van Gogh), fine dining, the haunting Anne Frank House and UNESCO-listed canal architecture.
Museums boasting the world's largest and second largest collections of Vincent Van Gogh works (the Van Gogh Museum, Amsterdam, and Kröller-Müller Museum, Otterloo, respectively).
The timeless charm of Dutch towns – Haarlem, Delft, Leiden, Hoorne, Deventer.
Medieval Bruges, also UNESCO-listed.
Fine art visits – works by Vermeer (Girl With a Pearl Earring), Rubens, Michelangelo, Picasso, Gauguin and Rodin, among many others.
Two exquisite artworks that featured in the 2014 film "Monuments Men," about the struggle to recover art looted by the Nazis during World War II – Michelangelo's Madonna of Bruges sculpture, and Ghent's Adoration of the Mystic Lamb altarpiece (Jan van Eyck).
Day visits to lively Brussels, Belgium's graceful capital; Ghent, an ancient university town; Antwerp, famed for its magnificent cathedral and Pieter Paul Rubens museum.
The tour includes lodging (all rooms with private bath), breakfast daily, eight other meals (lunches and dinners) at restaurants ranging from fine-dining establishments to those specializing in authentic local cuisine, transportation and a wide variety of visits (museums, churches, gardens, boat rides, walking tours). Tour pricing: $4,095 per person sharing accommodation for land arrangements.
About Intimate France – Founded in 1994, Intimate France Tours specializes in owner-led tours of Europe's most authentic destinations. Most departures, which take place in spring and fall to avoid crowds and hot weather, are limited to eight travelers.
As seen in International Travel News, "a celebration of travel":
http://www.intltravelnews.com/2009/09/frances-dordogne
http://www.intltravelnews.com/2011/03/an-intimate-look-at-normandy-and-the-loire-valley