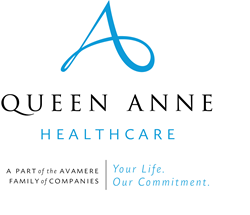 Olympia, Washington (PRWEB) December 08, 2014
On December 5th, the Washington Health Care Association honored two residents of Queen Anne Healthcare – a nationally recognized Avamere Family of Companies skilled nursing and long-term care center located at 2717 Dexter Ave North in Seattle, WA. The two residents received the WHCA Silver Spotlight Award during a reception held at the Governor's Mansion in Olympia, WA.
The Silver Spotlight Award is designed to honor remarkable achievements and contributions to community and country from individuals who reside in assisted living and skilled nursing centers throughout the state of Washington.
"We have benefitted greatly from the effort and leadership that the aging population has provided our country," remarked Robin Dale, president and CEO of WHCA, in a press release distributed by WHCA. "While many individual contributions have been nationally recognized for their impact to our nation's great history, there are countless others in our care that have inspired others and made and immeasurable difference."
The two Queen Anne Healthcare Silver Spotlight Award recipients will be featured in a 2015 pictorial calendar with the other 12 statewide winners.
About Washington Health Care Association (WHCA)
The Washington Health Care Association (WHCA) is a statewide non-profit organization representing over 400 assisted living and skilled nursing facilities. WHCA is the largest Long-Term Care Trade Association in Washington representing a diverse well rounded membership base including not-for-profit and proprietary members. WHCA's mission is to promote quality long-term health care and services, while serving as an advocate for providers, staff, and the patients and residents they care for. Association members provide health and personal care, social support and housing to 25,000 frail, elderly and disabled Washingtonians each day. About 25,000 employees work for member facilities.
About the Avamere Family of Companies
Founded in 1995 and based in Wilsonville, Oregon, the Avamere Family of Companies began as a single nursing facility in Hillsboro, Oregon. Today, the Avamere Family is comprised of 42 Independent Living, Assisted Living, Transitional Care and Skilled Nursing facilities, over 6,200 employees, and multiple ancillary healthcare companies that provide services including inpatient and outpatient rehabilitation, home care, home health, and hospice. For more information, please visit http://www.avamere.com.