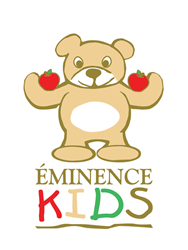 While providing children with nutritious fruits through Éminence Kids, we're also teaching them at a young age how to take control of their own health for the rest of their lives.
(PRWEB) December 12, 2014
With the season of giving upon us, Éminence Organic Skin Care is excited to launch a new initiative, Éminence Kids, aimed at benefitting sick children, youth and their families in our communities. As part of the new initiative, a portion of every Éminence product purchased will be donated to helping sick children and supporting their families.
The Éminence Kids initiative was first introduced in Budapest, Hungary, where Boldijarre Koronczay, President of Éminence, received treatment for childhood Leukemia. In January 2014, the initiative was set in motion with the donation of two mobile IV chemotherapy machines to the Semmelweis Medical University's Tuzolto St Children Clinic No 2 in Hungary, which gives children the mobility to play and interact with their family and friends. In addition, "Organic Days," a weekly delivery of locally-sourced organic produce to aid in the recovery of the sick children, was also introduced to the hospital. Continuing these efforts in North America, Éminence has introduced "Organic Days" to children and their families at the newly-built Ronald McDonald House BC which opened in Vancouver on July 7, 2014.
"As someone who experienced a childhood illness, I know firsthand how living an organic lifestyle can contribute positively to a person's health," says Boldijarre. "Natural and organic diets and remedies can have an incredible impact on the immune system. While providing children with nutritious fruits through Éminence Kids, we're also teaching them at a young age how to take control of their own health for the rest of their lives."
Helping sick children is something that is near and dear to the hearts of everyone at Éminence and now, through the purchase of an Éminence product, it is easy for consumers to also lend their support to this worthwhile cause.
About Éminence Organic Skin Care
Éminence Organic Skin Care is the award-winning provider of the most effective professional skin care products in the natural and organic skin care industry. With more than half a century of herbal craftsmanship and innovation, and several centuries of unsurpassed skin rejuvenation techniques unique to Hungary, they offers the highest quality natural skin care to leading salons, spas and their clients in more than 40 countries around the world. Éminence's superior spa treatments and products rely on a unique combination of hand-picked fresh ingredients. Vitamins are captured in their all-natural fresh base, offering dramatic results as actual seeds, pulps and peels begin the regenerative and healing powers that only nature can produce. Voted "Favorite Skin Care Line" for six years in a row by spa professionals and seen as Hollywood's skin care secret, with devoted fans such as Madonna, Cameron Diaz, Hugh Jackman, Michael Fassbender, Jessica Biel, Katherine Heigl, and Jena Malone, Éminence is renowned for premium organic and Biodynamic® skin care that enhances your well-being naturally. A commitment to the environment is integral to its business practices and the company strives to create products that are good for the earth as well as good for the skin. By enlisting wind and solar power energy in the making of products, recyclable packaging with vegetable-based inks, geothermal heating in the laboratory and an eco-alternative design of the head office, Éminence does all that it can to combat climate change. Starting in the fall of 2012, the Forests for the Future initiative brought that commitment to the environment to a whole new level by planting a tree for every product sold. Visit http://www.eminenceorganics.com for more information.