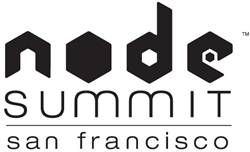 Enthusiasm for Node.js continues to accelerate, with companies across a growing number of markets introducing Node.js solutions and making Node a critical part of their mobile and web-based applications.
San Francisco, CA (PRWEB) December 09, 2014
Node Summit, the only conference focused on how Node.js is transforming the future of computing, today announced that its third annual conference will take place February 10-11, 2015 in San Francisco at the Mission Bay Conference Center. Launched in 2011, Node Summit seeks to engage Node.js experts, enthusiasts and developers in a discussion of the dynamic runtime's place at the center of the growing web ecosystem. In addition to recognized expert speakers, this year's Summit will again include NodeTalks, real-world case studies highlighting high-profile web applications across the Node ecosystem.
"Enthusiasm for Node.js continues to accelerate, with companies across a growing number of markets introducing Node.js solutions and making Node a critical part of their mobile and web-based applications," said Charles Beeler, producer of the Node Summit Conferences. "We're excited to bring the entire community together to talk about the current impact and future potential for Node.js as we work to help expand the community of people and companies that want to be part of the Node.js discussion."
Through content-rich discussions, panels, and keynote presentations, speakers will explore the key role Node.js plays in the growing web ecosystem. Topics covered at Node Summit will include:
● Enabling Better Living with Node.js. Node.js is enabling innovation at the application layer for an entire class of applications that redefine daily living. Banking, shopping and transportation are just a few markets where Node.js is helping to fundamentally change users' digital lives. Hear from the innovators in these categories, discover which markets are likely to be impacted next and learn why Node.js is a key enabler of this innovation.
● Biz Ops of Node.js. This year's Summit will offer in-depth discussions on scaling applications, teams and reach. Sessions will include best practices for designing, deploying, and debugging business-critical Node.js applications. Node Summit will include a broad range of talks and tutorials given by experts with hands-on experience who will share their insights on successful Node implementations.
● People Logic for the Digital Age. From monolithic departments to modular teams, this year's Summit will help attendees learn to align workflow and culture. Startups and enterprises will share their successes, and offer suggestions on how to balance the need for efficiency and structure while allowing for creative freedom.
● Betting Big on Node.js. Hear from some of the leading start-ups betting their future on Node.js and meet some of the angels and venture firms that have backed them. These startups are an integral part of the future of Node.js and their vision for the future of Node.js provides insights for any companies using or considering Node.js in their development environment. Discussions will explore the current Node.js market, as well as future opportunities for startups leveraging Node.js.
● The Future of Node. The community of people and companies working with Node.js has increased exponentially over the past few years, with a number of mission critical applications relying on the future success and vibrancy of Node.js and the community that drives it forward. Hear from some of the key people focused on the long-term success of Node.js and be part of the dialogue on the future of the project.
Featured Speakers
Node Summit will feature speakers involved in implementing Node.js, including application developers, component and device makers, data center providers, network operators, platform and service creators and leading innovators. Speakers will be announced beginning in late December 2014 on the Node Summit website and via the official Node Summit Twitter handle, @nodesummit. As the agenda is finalized, attendees can expect to see technology and business leaders on par with previous years' Node Summit events, which featured speakers such as Ben Galbraith (VP, Global Products, Walmart.com), Scott Guthrie (Corporate VP, Microsoft), Brendan Eich (CTO, Mozilla) and Sri Viswanath, (SVP Engineering and Operations, Groupon).
Call for Speakers
In addition to our featured speakers, Node Summit 2015 will include the return of NodeTalks, where leading technology experts from across the Node ecosystem will share real-world Node.js case studies and give talks highlighting the rapidly growing number of high profile web applications that rely on the emerging Node.js ecosystem. The window for submitting a NodeTalk is now open and entries are currently being evaluated; the submission period will continue until early January 2015 or as availability permits. See the NodeTalks page at nodesummit.com for more details on submitting a NodeTalk proposal.
Register Soon
As in previous years, this year's Node Summit is expected to sell out. Anyone looking to connect with relevant players in the Node.js ecosystem – technology experts, business leaders, entrepreneurs and venture capitalists – should not miss this seminal event. Register today to ensure your spot.
About Node.js
Node.js is a platform built on Chrome's JavaScript runtime for easily building fast, scalable network applications. Node.js uses an event-driven, non-blocking I/O model that makes it lightweight and efficient, perfect for data-intensive real-time applications that run across distributed devices. Node.js software is open source, MIT-licensed software.
About Asynch Media
Asynch Media is focused on the intersection of technology, business and innovation. Asynch's goal is to be the premier producer of events and content that relate to the real-time collaborative nature of the web and technologies that enable businesses to benefit from disruptive innovation. Node Summit is its flagship conference with Node.js as the central tenet of today's real time web.