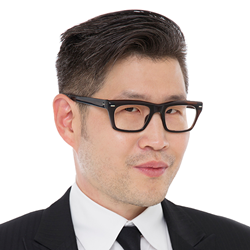 Wong's real estate focus is on unique and unusual properties throughout San Francisco with an emphasis on the South Beach and SOMA neighborhoods.
San Francisco, CA (PRWEB) December 10, 2014
San Francisco-based Climb Real Estate Group is pleased to announce their affiliation with Michael Wong, who will join the real estate team as Sales Associate. A newly licensed residential real estate agent, Wong joins Climb as a member of Top Producer Dirk Kinley's real estate team.
Wong's real estate focus is on unique and unusual properties throughout San Francisco with an emphasis on the South Beach and SOMA neighborhoods. "I love dealing in properties with a rich architectural history, as well as new developments with luxurious finishes and amenities," said Wong. "As a buyer, Climb always represented the properties I was most interested in, so when it came time to make my decision as a new agent, the choice was clear, Climb was the perfect fit. As a member of Dirk Kinley's team, I am focused on providing outstanding service to my clients in the San Francisco real estate market."
Dirk Kinley, Climb's Managing Director and a Top Producer since 2010, said, "Michael is a great addition to our Mission Bay-based team. In 2014 we have seen a huge uptick in our core business. Michael has the skills and persona to assist in this business as well as build on it for himself, the team, and the successful Climb brand." Kinley's top-producing team also includes Climb real estate agents Alexander Fromm Lurie, Davis Pemstein, Billy Lane, and William Crum.
Michelle Balog, Climb's Managing Sales Director, said, "Michael is an incredible addition to our team, especially with him joining Top Producer Dirk Kinley's team. Michael is a resident of South Beach, which is a neighborhood that Climb has had a large presence in since our inception as a brokerage. His background in art and design will be a winning asset for his buyers and sellers."
After graduating from Punahou School in Honolulu, Hawaii, Michael Wong attended Lawrence University and The School of the Art Institute of Chicago for his undergraduate work in the Visual Arts. Wong completed his Masters of Fine Arts degree in Sculpture and Drawing from the University of Minnesota and received an endowment from the Community of Scholars to conduct on-site research of the ancient visual arts along the Silk Road in China. Wong's post-graduate work included tenure as the Art Director for Art Relief International, a non-profit organization based in Chiang-Mai, Thailand, and an ongoing association as resident artist and educator at the Scuola Internazionale di Grafica in Venice, Italy.
Wong currently lives in South Beach with his wife Zoe and their beloved collection of 3,000 records.
ABOUT CLIMB REAL ESTATE
Climb Real Estate Group is a recognized leader in the marketing and sales of Bay Area residential real estate. The San Francisco-based independent and locally-owned brokerage is proud to be the leader in the purchase and sale of a diverse array of homes: from $80,000 parking spots to million-dollar mansions, new development studios to luxurious view penthouses, live/work lofts to charming bungalows and single-family homes. With over 11 years of experience in marketing and collective sales in excess of a billion dollars, Climb Real Estate Group offers unparalleled marketing and sales expertise with offices in Potrero Hill, Noe Valley, Mission Bay, and Oakland's Jack London Square.