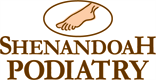 The podiatrists at Shenandoah Podiatry are excited to announce the launch of their new website, designed to make foot and ankle pain a little less intimidating.
Roanoke, Virginia (PRWEB) December 10, 2014
Moving. It's something everyone does on a daily basis without thinking. Movement is fundamental to getting through day-to-day life. From walking to and from an office to standing in the grocery store to pick something off a shelf, people are in constant motion. When something stops that motion, or causes movement to become painful or impossible, it's time to seek help from a doctor. This is often a scary time for individuals, which is why the podiatrists at Shenandoah Podiatry are excited to announce the launch of a new website that makes foot and ankle pain a little less intimidating.
Shenandoah Podiatry has two locations in Virginia. Its podiatry offices are located in Blacksburg and Roanoke, but its patients are located in communities throughout the area. Despite the easy accessibility of both clinics, the foot doctors at Shenandoah Podiatry grew concerned about patients who needed advice and information between appointments. To accommodate these people and offer faster help for foot or ankle pain, Shenandoah Podiatry has launched a more robust website, which includes information about various ailments, injuries, and foot conditions.
When visiting the website, visitors will learn about the dedicated podiatrists at Shenandoah Podiatry. In addition, they'll get core information to identify serious foot problems, learn basic at-home treatments, and discover the importance of seeking help from a professional. Written with patients in mind, Shenandoah Podiatry's new website is meant to serve individuals without a medical background.
Shenandoah Podiatry focuses on providing quick relief and long-lasting solutions. Every patient is seen in a timely manner and treated using the most advanced technology available. Each staff member regularly attends conferences and educational events to stay on top of the most recent foot and ankle care techniques. Through detailed explanations, Shenandoah Podiatry foot and ankle doctors strive to have every patient leave their office with confidence and comfort, knowing more about their injuries and how to get the care they need.
The Shenandoah Podiatry website is just getting started. The team plans to continue expanding their educational database with regular, informative posts. The website was built and designed by the doctor marketing firm, Foster Web Marketing.
To get more information about the types of foot and ankle care available in Blacksburg and Roanoke, visit the new website for Shenandoah Podiatry.
About Foster Web Marketing:
Founded in 1998, Foster Web Marketing (FWM) offers attorneys, physicians, and other professionals across North America and overseas an effective online marketing approach that combines appealing and intuitive design with the latest search engine optimization, comprehensive marketing services, and content management strategies. FWM has proven that it is possible to build a "Made in the USA" business with excellent customer service in a very competitive market, all while helping its clients succeed through powerful websites and proven education-based marketing techniques using its proprietary "secret weapon," Dynamic Self-Syndication (DSSTM). To learn more, please visit http://www.FosterWebMarketing.com.