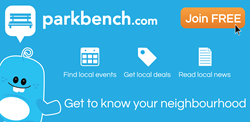 Toronto, Ontario (PRWEB) December 09, 2014
This past week, many different shop local initiatives came to the fore. Canadian consumers bore witness to a variety of marketing initiatives geared towards promoting shopping local and supporting small businesses. In the wake of Black Friday, one of North America's oldest business directories hosted a shopping event that coincided with the date and encouraged consumers to 'shop the neighbourhood.' They gave small businesses an opportunity to offer exclusive deals for the day in hopes of attracting new visitors and garnering returning customers. Now imagine there was a platform that didn't dedicate just one day to encourage shopping local—but gives local businesses the opportunity to offer local deals, sales, and specials all year round—for free. Well, imagine no more. It's a reality and it's called Parkbench.com
Parkbench aims to promote shopping local all year round by providing small businesses with a means of engaging their target market with their free platform. Small business owners have the opportunity to create a profile and begin promoting their daily specials, in-store sales, and provide great deals for new customers and encourage them to try them out. Small businesses are also capable of offering a unique review-pon that provides customers with an incentive for writing a review about their business on Parkbench. These reviews help local businesses attract more customers, and give their loyal customers a reward–a true win win!
Examples of businesses meeting with success on the platform are displayed by the many small businesses that are now actively promoting themselves on their neighbourhood's site. The Roastery in Liberty Village Toronto has garnered nearly 100 reviews within one year of joining Parkbench. Panago Pizza, in the same neighbourhood, has always offered a coupon to new customers and that has attracted almost 250 new customers to their restaurant. They many marketing tools on Parkbench can be implemented by local businesses free of charge.
In many cases, online advertising has proven to bolster the marketing efforts of small businesses. Restaurants and retailers need to find their way into the digital realm if they wish to introduce new customers to their products and offerings. In the past it may have sufficed to display them on a sandwich board or simply advertise them in store, but in terms of attracting new customers and ensuring their return, it will require some online efforts. For example, during the slow hours of the day, businesses can offer flash deals on Parkbench where customers can get a sweet deal by stopping by within certain hours. For the business, this could mean some revenue instead of no revenue, which is huge for their longevity.
The holiday season is upon us and so are the arbitrary shopping holidays. Parkbench wants to give small businesses across Canada the opportunity to engage their target market and offer deals to local customers not only on Black Friday, but every day of the year.
About Parkbench
Parkbench.com is Canada's leading website for neighbourhood information and the fastest growing website of its kind in North America. Founded in March 2014, Parkbench curates everything going on in each neighbourhood from all the leading websites and showcases it to users on one easy-to-use platform. Users can find local deals and events, read neighbourhood news, connect with neighbours, and learn everything there is to know about a neighborhood. Parkbench founders Grant Findlay-Shirras, Amanda Newman, and Rodney Hoinkes are available for interview.
For more information, or to arrange an interview, please contact:
Emma Bigelow
Content & Communications Coordinator, Parkbench
647 278 6201
emmab(at)parkbench(dot)com