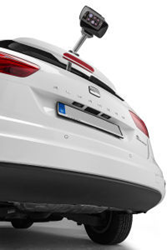 "Technically, the MARWIS solution is crossing new frontiers" Sam Aebi - Traffic Technology 2000
Santa Barbara, California (PRWEB) December 16, 2014
Lufft USA, Inc., a global manufacturer of high quality, precision weather monitoring solutions for government and industry, is introducing the MARWIS (Mobile Advanced Roadway and Weather Information Sensor), a new line of mobile weather and road sensors for remote real-time data collection. MARWIS installs on the exterior of any car, truck, or road maintenance vehicle. The road sensor weighs 3 pounds, 12 ounces, is Bluetooth-enabled, and conforms to UMB (Ultra Mobile Broadband) standards for use with all 4G mobile communications equipment.
MARWIS collects a wide spectrum of road surface and weather metrics, which are streamed via Bluetooth to on-board mobile devices such as iPad and iPhone (Android available March 2015). It captures information via a cluster of optical sensors using advanced LED (Light Emitting Diode) transmitters and receivers, humidity sensing technology, and infrared remote surface temperature sensor. This provides fleet managers, DOTs, public works departments, and airport officials with next generation remote monitoring capabilities. In addition to providing vehicle operators with instantaneous display and data evaluation, MARWIS offers the option to transmit real-time data directly to the cloud.
MARWIS is typically mounted three- to six-feet above the surface with the road sensor facing downward on the roofline, side, or rear panel of a vehicle. The device collects multiple data points at the rate of 100 measurements per second, including: road surface data such as relative humidity above the road surface, dew point temperature, and road conditions such as wet or dry, damp, water film height, ice/snow, critical moisture, ice percentage, and friction level. MARWIS technical specifications are available here: http://www.lufft-marwis.com/en_US/specifications
"As a global leader in precision remote sensing equipment designed to integrate seamlessly into existing data infrastructures, MARWIS is a natural extension of Lufft's best-of-class weather stations and road sensor products widely used within industry, government, and the scientific community," commented Ann Pattison, Chief Executive Officer of Lufft USA. "Engineered to exact specifications, manufactured entirely by Lufft and supported throughout North America by our engineering team and extensive local network of partners, MARWIS brings tremendous visibility to the daily operations of state transportation departments, public works entities, airport maintenance facilities, and military command centers."
According to Ms. Pattison, the MARWIS mobile road condition solution was conceived by Lufft Engineers as a response to the emergence a new class of mobile, wirelessly connected devices, a trend increasingly referred to as the "Internet of Things".
"We saw a growing need for the next generation of road condition sensors that were lightweight, cost-effective to maintain and, most important, highly portable which is why MARWIS is designed to be installed easily to the exterior of virtually any kind of vehicle," Ms. Pattison stated. "When adverse weather conditions are developing, it's of tremendous value for DOT and public safety officials to have critically important data streaming to a central monitoring station from the dozens or hundreds of vehicles they already have on the road."
"Technically, the MARWIS solution is crossing new frontiers", said Sam Aebi of Traffic Technology 2000, a supplier of road and traffic safety solutions to industry and government based in Montreal, Canada. A long-time partner of Lufft, Traffic Technology 2000 is supporting the integration of MARWIS into a variety of fleet vehicles throughout Canada.
"The sensor succeeds in doing something new, which is to provide a truly mobile measurement of road surface conditions in real-time. Combining this innovation with existing data on traffic and weather forecasting and GPS could truly change the face of road safety as we know it," Mr. Aebi stated.
The MARWIS road sensor is offered throughout the United States through Lufft's principal partner in road weather Transportation Equipment & Services, Inc. Based in Youngsville, NC. Transportation Equipment & Services is a leading provider of consultative services and advanced weather systems for industry and government.
"We strive to provide the best-of -class technologies available to help our customers be more efficient and cost-effective, and MARWIS is ideally suited to add significant value to the data collection and information sharing systems currently in use," commented Mark Holland, Managing Director at Transportation Equipment & Services, Inc.
Equipment evaluation managers and procurement departments in industry, government, research and military within the United States are invited to request an on-site demonstration of MARWIS or a test unit for their inspection by e-mailing info(at)transequipserv(dot)com or calling 877-499-8727. For Canadian contacts please contact Traffic Technology 2000 Montreal Canada http://www.traftech2000.com/ Toll Free Canada / US: 1.800.363.6224, extension 2. Any other inquiries can call on LufftUSA directly at 888-519-8443.
About Lufft USA, Inc.
Lufft is a global manufacturer of high quality and precision weather monitoring equipment. Engineered to exacting specifications and manufactured entirely in our Stuttgart, Germany facility, Lufft's all-in-one weather stations integrate seamlessly into existing infrastructures to measure solar radiation, wind speed, wind direction, temperature, humidity, barometric pressure, and precipitation. For further information or for inquires outside of the US or Canada, visit http://www.lufft.com, or call Erik Wright, MARWIS product manager Lufft USA, Inc. at 805-335-8500 or e-mail erik(dot)wright(at)lufftusainc(dot)com.
Media Contact:
Ann Pattison, CEO
Lufft USA, Inc.
Tel: 805-963-7547
E-mail: ann.pattison(at)lufftusainc(dot)com