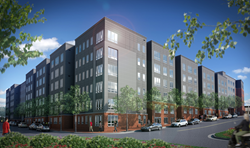 We are looking to add retailers who deliver what students want and need to offer the perfect mix to our one-of-kind student living experience.
Raleigh, N.C. (PRWEB) December 09, 2014
CVS Health is the first retail tenant inked at Stanhope, a new upscale, off-campus student housing community at North Carolina State University that will open in Summer 2015.
CVS will occupy 12,226 square feet at the corner of Hillsborough Street and Friendly Drive as part of the 20-year deal, with a tentative opening of August 2015. The store will include a pharmacy, drug store and light grocery items. The remaining 12,744 square feet of retail space is expected to be leased by merchandise shops and restaurants.
Kane Realty Corporation, a Raleigh-based development and management company focused on mixed-use properties, began construction on the $78 million, 822-bed project this past spring.
"The addition of CVS as an anchor tenant in our retail space at Stanhope is an exciting piece to the entire revitalization of the area," said John Kane, CEO of Kane Realty Corp. "We are looking to add retailers who deliver what students want and need to offer the perfect mix to our one-of-kind student living experience."
Located just steps from NC State University and less than one mile from Meredith College, Stanhope is situated at 3001 Hillsborough Street. Named to honor the historic Stanhope neighborhood, the mixed-use community will offer students a wide range of amenities, including an oasis saltwater pool with splash deck, outdoor courtyards with televisions, fire pits, grills and open green space, integral parking deck, hi-tech cyber lounge, study lounges on each floor, art studio, two-story game room, fitness center with cardio mezzanine and two tanning rooms, ground level retail, restaurants and services and more.
Uniquely, the community is heavily focused on green living, offering electronic car charging stations, recycling rooms on every floor, a bicycle storage room, energy efficient windows, sustainable landscaping design with organic fertilizer and LED lighting used throughout the grounds and more.
Residents will be able to choose from a variety of spacious floor plans including studio, one-, two-, three- and four-bedroom options. The individual apartments will come fully furnished and will include televisions with cable and HBO, Energy Star appliances, granite countertops, wood plank style flooring, smart key unit entry system, washer and dryer and more. The entire property is also equipped with high-speed Wi-Fi, and will employ an on-site maintenance and management staff.
Kane Realty Corporation has hired Asset Campus Housing (ACH), the largest management and privately held student housing company in the U.S., to manage the residential community.
According to Joe Goodwin, senior vice president of marketing for Asset Campus Housing, demand for living at Stanhope is high and leasing is already ahead of initial projections.
Kane Realty Corporation will lease and manage the retail space. The project team also includes Little Diversified Architectural Consulting and Clancy & Theys General Contractors. Financing is provided by Wells Fargo Bank and Federal Capital Partners.
Stanhope student apartments will open for students Summer 2015. For more information, please visit http://www.livestanhope.com or in-person at the residential leasing office, located at 2408 Hillsborough Street, Raleigh, NC. Retail inquiries can be directed to Kane Realty Corporation, 919.833.7755.
About Kane Realty Corporation
Focused on the development and management of retail and mixed-use properties of the highest quality, Kane Realty Corporation is dedicated to the goal of creating irresistible places where people will naturally want to gather. Through concern for smart growth and meticulous attention to detail in every aspect of the property from design to management, Kane's mission is to build places that improve the quality of life of their businesses, their employees, residents and visitors. For more information, please visit http://www.kanerealtycorp.com.
About Asset Campus Housing (ACH)
Headquartered in Houston, Texas, Asset Campus Housing, Inc. ("ACH") is an affiliate of Houston-based Asset Plus Companies, a third party property management firm specializing in real estate services for investors, developers, and owners. Asset Campus Housing manages a student housing portfolio of more than 115 properties, exceeding 65,000 beds located throughout the United States. http://www.assetcampus.com.
About CVS Health
CVS Health is a pharmacy innovation company helping people on their path to better health. Through our 7,700 retail pharmacies, 900 walk-in medical clinics, a leading pharmacy benefits manager with nearly 65 million plan members, and expanding specialty pharmacy services, we enable people, businesses and communities to manage health in more affordable, effective ways. This unique integrated model increases access to quality care, delivers better health outcomes and lowers overall health care costs. Find more information about how CVS Health is shaping the future of health at http://www.cvshealth.com.