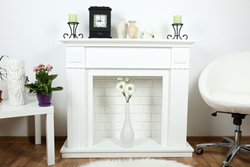 A common decorating mistake is that a room will look bigger with the furniture on the outside walls
Chicago, IL (PRWEB) December 08, 2014
The Federal Saving Bank knows that selling a home can be difficult even when ones knows it is a good house on the market at a reasonable price. Sometimes, a house just needs a little rearranging and sprucing up for buyers to see its full potential. This is when staging comes in. Staging is when a home and its furniture are arranged to show not only how attractive the house can be, but also how well its space can be put to use.
While there are professional stagers in the housing market, can use the following tips to stage a home yourself:

Create a strong first impression in the entrance. The exterior of a house says a lot about the atmosphere of a home - is it a colorful and welcoming home, or is it more formal? If the walkway and front door look a little aged, consider a fresh coat of paint or new polished handle and knocker. Additionally, make sure the address numbers are easy to see from the street.
Clean up the inside of the entrance. Normally, a front door can have shoes, umbrellas and backpacks piled around it. Designate a new area of the home for these items when trying to sell and instead, and make sure the entryway is clean, has a nice welcome mat or rug and a bit of decoration like artwork or plants.
Focus on the dining room. In well lived-in homes, the dining room table can be hold homework and newspapers. However, before showings, the room should be tidied. Create a nice table setting, including a center piece, so that potential buyers can imagine themselves eating and entertaining there.
Pull furniture away from the walls. A common decorating mistake is that a room will look bigger with the furniture on the outside walls. However, keeping the perimeter of the room clear is better for traffic. Move couches, tables and chairs so they are arranged in the middle. This creates an intimate setting and will make a room appear more spacious.
Put extra rooms to use. If a has a room that is not used as a bedroom for the family, make sure it's being displayed to highest potential as a guest bedroom, office or nursery. A smaller room will be best suited to a nursery or home office, so borrow some furniture from friends or family if necessary to show it off.
Reduce the clutter and personal items. Less is more when it comes to staging a home, ones wants potential buyers to imagine themselves living there. Keep family pictures and trinkets to a minimum and store extra clutter and unnecessary items in pretty storage bins or in the attic. Fewer items lying around can make the space look cleaner and bigger.
Boost light in the house. It's always beneficial to let in the sun and turn on lights before anyone comes to look at the house. Bright homes are cheerful and welcoming. If the showing is at night or during the chilly season, create a cozy atmosphere with a fireplace or LED candles.
Sellers who need information on a mortgage for their next home should contact The Federal Savings Bank, a veteran owned bank, to learn more about low rates and the pre-approval process.