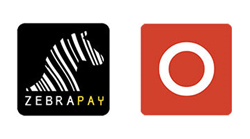 The Coinzone platform integrates perfectly with our existing payment methods.
Amsterdam, Netherlands (PRWEB) December 09, 2014
ZebraPay, the company that offers a simple and rapid method of payment processing with over 1,000 self-service terminals, introduces Bitcoin transactions with the recently launched payment gateway Coinzone. By utilising the powerful Coinzone API, integration was complete in only a few days.
With the implementation of Coinzone in ZebraPay terminals, customers can now use Bitcoin for acquiring a wide range of products and services such as: paying bills, vignettes, recharge pre-paid phone cards, make online payments or acquire tickets and monthly subscriptions to various magazines.
"We are pleased to announce the implementation of Bitcoin payment at ZebraPay terminals thanks to our partnership with Coinzone. The Coinzone platform integrates perfectly with our existing payment methods: cash and through the SEQR application. Innovation is a milestone at ZebraPay and with this implementation we have become the first company of our kind in Romania and from our information the first company worldwide that supports such a comprehensive portfolio of payment methods. Our customers can now pay for such services by ZebraPay terminals, selecting the most convenient method for them", mentioned Adrian Badea, CEO ZebraPay.
With an intuitive interface, Coinzone integrates flawlessly with both mobile and online payments, ensuring an optimised payment experience. By offering a guaranteed exchange rate, Coinzone provides a simple and risk-free way to accept Bitcoin payments. The Coinzone solution includes an online check-out page available in over 11 languages, integration with top online shopping carts such as Magento, Prestashop and WooCommerce, mobile Point-of-Sale apps for Android and iPad/iPhone and a versatile API for custom integrations. Customers can also manage their Bitcoin payments from anywhere and anytime: at the office, at home or on the move with a dashboard and reporting tools optimised for mobile devices.
"The Romanian market is a hub of innovation regarding Bitcoin payments and with Coinzone we aim to set the standard with powerful tools for Bitcoin transactions. The market is at its early start and people are still being educated on the wide range of advantages which using Bitcoin brings. We are excited to offer Bitcoin users in Romania a flawless solution to pay their bills through through the partnership between Coinzone and ZebraPay. We are working on offering similar solutions in other countries soon", mentioned Manuel Heilmann, CEO Coinzone.
For more information on Coinzone and easy access to the platform, please visit the company's website: http://www.coinzone.com.
About Coinzone:
Headquartered in the Netherlands, the Coinzone team has 70+ years of experience with both international e-commerce and payments. Coinzone's mission is to provide the best user experience that eliminates geographic boundaries and complexities of payments by enabling businesses and individuals in Europe and growth markets to easily store and transact digital currencies. For additional information, please visit: http://www.coinzone.com.