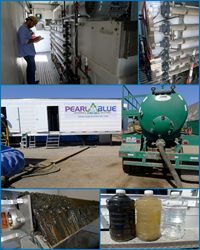 The numbers don't lie. Investment into emerging E&P technologies were nearly non-existent in 2003, at just $57 million. Since then, E&P technologies have attracted nearly $7 billion in private investment from 497 unique transactions...
Los Angeles, CA (PRWEB) December 09, 2014
OriginOil Inc. (OTC/QB: OOIL), developer of Electro Water Separation (EWS), the high-speed, chemical-free process to clean up large quantities of water, announced today that in a letter to shareholders, CEO Riggs Eckelberry reported that an OriginOil test site in California is now planned by year-end. The site will be open only to prospective industry licensees and customers. It will also provide a test bed with an Energy Producer in the heart of the California heavy oil play.
The full report is now available on OriginOil.com's website at http://www.originoil.com/ceos-update/our-california-research-center
He also reported that, according to the latest newsletter from Lux Research, deal flow in emerging Exploration and Production (E&P) technologies has been accelerating since 2003. During that period, such technologies have attracted nearly $7 billion in private investment from 497 unique transactions.
OriginOil is an emerging E&P technology play, potentially benefiting from this trend.
Safe Harbor Statement:
Matters discussed in this release contain forward-looking statements within the meaning of the Private Securities Litigation Reform Act of 1995. When used in this release, the words "anticipate," "believe," "estimate," "may," "intend," "expect" and similar expressions identify such forward-looking statements. Actual results, performance or achievements could differ materially from those contemplated, expressed or implied by the forward-looking statements contained herein, and while expected, there is no guarantee that we will attain the aforementioned anticipated developmental milestones. These forward-looking statements are based largely on the expectations of the Company and are subject to a number of risks and uncertainties. These include, but are not limited to, risks and uncertainties associated with: the impact of economic, competitive and other factors affecting the Company and its operations, markets, product, and distributor performance, the impact on the national and local economies resulting from terrorist actions, and U.S. actions subsequently; and other factors detailed in reports filed by the Company.