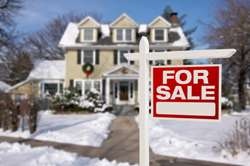 If there is snow, be sure to snow blow the driveway and shovel the sidewalk.
Chicago, IL (PRWEB) December 09, 2014
With the winter upon us, some homeowners may be discouraged that their property was not sold during the summer or fall. Peoples Home Equity thinks homeowners should not worry about
Do Not Remove The Listing: Remember, more Americans are employed now. Individuals have jobs and they are very eager to stop paying rent and purchase a home. Many times, purchasing a home at the listed price + HOA fees + taxes is still less expensive than paying for rent! Currently, the US housing market is experiencing a major imbalance between supply and demand. Real estate inventories are not enough to satisfy demand which is driving property values up. Given the large presence of demand, homeowners should not remove their MLS property listing. If the agent insists on removing the listing, consider posting the property for sale by owner.
Clean Up The Clutter: Perhaps the reason why the house did not sell in the summer or fall because the did not look attractive. Buyers do not want to see a dirty home filled with clutter, they want to see wide open spaces in which they can imagine where to place their furniture.
Consider Offering Some Extra: Adding some extras to a home sell can sweeten the deal for a buyer. If there are flat screen TV's on the wall, consider leaving them and including them in the sale contract. Buyers may appreciate the gesture as repairing the dry wall, drilling and install a new TV stand can be a hassle. A homeowner may want to completely redecorate their new home them the idea of selling their current property with all the furniture. If the buyer is from out of state, purchasing the property fully furnished may be very attractive as it can save a lot of time and money moving.
Create Some Curb Appeal: One wants peoples to stop their cars and walk into view the property. If there is a lawn in front of the building make sure the leaves are swept. If there is snow, be sure to snow blow the driveway and shovel the sidewalk. One does not want to give prospects the idea that the property is rundown and deserted.
Consider Adjusting The Price: After considering all of the tips above, prospective buyers are still not showing up, and then a price change may be needed. The property may not be priced to sell which is why it never sold during the summer or fall.
If in need of a home loan to purchase a new property contact a Peoples Home Equity loan officer today at: 262-563-4026