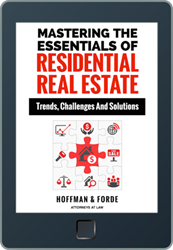 Learn the 7 simple deciding factors for a successful real estate transaction.
San Diego, CA (PRWEB) December 09, 2014
Hoffman & Forde, a premier Real Estate Law Firm, released a new, groundbreaking e-book to help real estate agents master the essentials of residential real estate.
http://hoffmanforde.com/real-estate-ebook
Real estate attorneys assists agents in closing more deals predictably and effortlessly. They are able to draft purchase agreements that are tailored to the specific transaction instead the "one size fits all" contract utilized by so many real estate professionals. Agents are able to work with attorneys to understand their obligations as well as the obligations of the other parties.
This e-book discusses the trends, challenges, and solutions to mastering the essentials of residential real estate. Specifically, it covers the deciding factors in achieving a successful real estate transaction.
Click here to checkout the book now.
Re-entering the residential loan market is difficult, especially in today's economy. Hoffman and Forde describe the multiple challenges the market brings, and how to get through the uncertainties real estate professionals may face. There are nine factors that determine a transaction's success or failure:
1. Loan to Value
The ratio of the amount that is borrowed, versus the amount at which the property.
2. Debt to Income
The ratio that reflects the amount of income a person has compared to his or her monthly debt obligations.
3. Credit Report
A detailed report of the number and payment statuses of all loans and consumer credit accounts.
Credit reports illustrate different and important legal considerations for real estate agents such as common disclosure issues, concerns with titles, problematic sellers, and living in planned unit developments.
4. Common Disclosure Issues
Although it can be laborious and time consuming to gather a complete list of disclosures, the agent must work with the client to assure that all relevant disclosures have been made. The more disclosures given equals less of a likelihood that the sale becomes a liability.
5. Concerns with Titles
There are two types of title systems to keep track of public ownership. Both methods are widely used throughout California and provide title searches to determine detailed information about the title and issues it may have.
6. Problematic Sellers
There are various issues that inevitably arise when an agent is representing a seller. As most agents know, sellers can be unaccommodating and uncompromising about a multitude of things including price, closing costs, etc.
7. Buying or Selling in a Master Planned Community
This is a unified site of clustered buildings designed for multiple residential units and a common area that also adheres to a comprehensive plan. Common issues can arise due to many factors, especially Home Owners Associations.
With this in depth and comprehensive information providing a framework for successful real estate deals, real estate agents are empowered to close more deals predictably and effortlessly. Agents learn to utilize real estate attorneys as a sounding board to identify problems before they arise.
Tomorrow this ebook's special pricing is going away, so go get it now before it's too late. Chances are this won't be available again for quite some time.