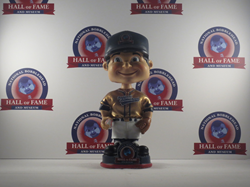 With only 1,500 ever made and many already sold, we don't expect these to last much longer
Milwaukee, Wisconsin (PRWEB) December 09, 2014
Milwaukee, WI – The limited edition Founding Member bobbleheads, an exclusive benefit for Founding Members of the National Bobblehead Hall of Fame and Museum, have arrived in Milwaukee. The gold jersey edition is individually numbered to only 1,500, and a limited number remain for new Founding Members. Memberships can be purchased by visiting http://www.BobbleheadHall.com, and can also be obtained by backing the Hall of Fame and Museum's Kickstarter Campaign.
Memberships that include the Founding Member bobblehead begin at just $50 and also include a bobblehead of the Hall of Fame and Museum's mascot, which will be designed in 2015. Founding Members' names will also be permanently enshrined in the Hall of Fame and Museum on the Member and Donor recognition wall. Benefits also include unlimited access to the Hall of Fame and Museum, Member-only newsletters, access to exclusive online content, and several additional perks. All Memberships are valid for one year after the Hall of Fame and Museum's opening, which is expected to be in 2016.
"We're very excited to have the Founding Member bobbleheads arrive before the holidays and to get them out to our early Founding Members," said Phil Sklar, Co-Founder and CEO. "Memberships make a perfect gift for anyone who enjoys bobbleheads, and this very rare bobblehead will make any collector or fan very happy this holiday season! With only 1,500 ever made and many already sold, we don't expect these to last much longer." Those purchasing memberships as a gift will receive a digital Membership Certificate which can be customized.
The Founding Member white jersey bobbleheads have also arrived and will go to Founding Members after the first 1,500. Founding Members who receive the gold jersey version are also able to purchase the white jersey version for only $20. Members can expect to receive their Founding Member Bobbleheads over the next two weeks.
"The Founding Member Bobbleheads arrived last night, and we have an action packed day planned for one lucky bobblehead as we show him around the Milwaukee area," said Brad Novak, Co-Founder and President. "Those who follow along the bobblehead's journey today on any of our social media platforms can win some great prizes including rare bobbleheads and Memberships to the Hall of Fame and Museum."
The National Bobblehead Hall of Fame and Museum will also be donating a Major Leaguer membership to Toys for Tots for every Membership given away during the contest and an additional Membership for every 10 new Kickstarter backers from today through this Saturday, December 13.
"With the holiday season here and only 15 days remaining until Christmas, we want to do our part to make sure as many children as possible have a toy this holiday season," said Sklar. "We encourage everyone to consider donating a toy, volunteering, or making a monetary contribution to Toys for Tots or a similar organization this holiday season." More information about Toys for Tots including drop-off locations and volunteer opportunities nationwide can be found at http://www.toysfortots.org.
Memberships, which include the Founding Member Bobblehead, can also be purchased at Hometown Fan, which is located at 322 N. 76th St. in Milwaukee. Stay tuned to http://www.BobbleheadHall.com for announcements about additional locations in the Milwaukee area where Memberships can be purchased.
About the National Bobblehead Hall of Fame and Museum
The National Bobblehead Hall of Fame and Museum was announced on November 18, 2014, and is expected to open in 2016 in Milwaukee, Wisconsin. The Hall of Fame and Museum currently has a Kickstarter Campaign to fund the physical building. With the public's support through the Kickstarter Campaign and Membership sales, the Hall of Fame and Museum will house the world's largest bobblehead collection as well as dozens of bobblehead-related exhibits, a gift shop, a bobblehead-themed restaurant and special event space. Visit us online at http://www.BobbleheadHall.com, http://www.facebook.com/BobbleheadHall or http://www.twitter.com/BobbleheadHall.
Contact
Phil Sklar, 414-519-2625
phil.sklar@bobbleheadhall.com