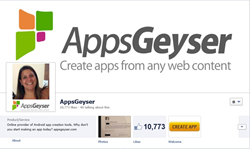 Since we published our app distribution methods we have seen app installs increase ten-fold
(PRWEB) December 11, 2014
It is clear to see that with over 50 templates to choose from on AppsGeyser's online platform, app making has never been any easier, in fact, over one million apps have been created with these free online app making tools. AppsGeyser understands the correlation between app distribution and app success and therefore provides continued support to app makers through providing simple, and free, app distribution tools.
The AppsGeyser Android app tool program has inbuilt app distribution tools that allow app makers to distribute their app in a variety of ways. Many app makers opt to publish their app to an online app market, such as GooglePlay, by downloading the Appsgeyser provided APK, however this is not the only way an app can be distributed. AppsGeyser also offers users a QR code and download links which can be incorporated through users' websites, newsletters, social media and on more traditional marketing materials such as on leaflets and business cards. For further information on app distribution methods please click through to the AppsGeyser blog for more details.
"I had never given any thought into app distribution methods until I read the AppsGeyser blog on app distribution," Vladamir Gdodski told us. "I automatically presumed that to distribute my app I needed to upload my app to GooglePlay. I was unaware of other Android app markets and hadn't even considered using the QR code or online links offered by AppsGeyser".
"Our job is to ensure app makers are successful," explains Vasily Salomatov. "In order to get the most from an app, it is vital that the app is distributed through a range of app distribution methods. Since we published our app distribution methods we have seen app installs increase ten-fold."
About AppsGeyser
AppsGeyser, launched in February 2011, is now the biggest Free Android App Builder on the market. AppsGeyser's popularity has risen by enabling users to create apps with ease for Android devices from any web content in under five minutes. AppsGeyser has seen more than 1,354,000 apps created on its platform. There have been more than 935 million downloads of its apps.