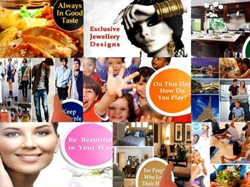 The number 1 eCommerce distributor of as-seen-on-television products to customers
(PRWEB) December 10, 2014
Boredom gets most of us down on occasion: some days the most exciting thing happening is staring out the window! The cold weather doesn't exactly help and many of us fall victim to seasonal depression. We hibernate - and for many of us, that means spending a lot more time online. Though many websites are tempting, one of the best out there right now for middle eastern consumers is: http://MyVistaShop.com.
User-friendly? Check. Original design? Check. Vivid and bright, this online store helps cure the cold-weather blues at first glance. Website content is available in two languages depending upon the comfort level of the shopper: both Arabic and English versions are provided. Relevant product descriptions that are comprehensive in scope are easy for consumers to read and access. Hooked in to social media, shoppers can easily stay on top of the latest from MyVistaShop.com using Facebook, Google Plus, Instagram, Twitter and Pinterest for new market launches and incredible sales.
The website itself is highly versatile, with nine distinct product categories: Beauty, Food, Gems, Health, Travel/Journey, Kids, Kitchen, Style and last but not least Home Goods.
The Beauty section carries innovative spa and salon-quality wares such as cosmetic organizers, fun shower feet and at-home pedicures. The Food selection is broad with numerous health-conscious products available. The Gems selection provides elegant and classy jewelry items that are both timeless and fashion-forward. The Health category has enriching body massagers that utilize the power of hot and cold therapy for optimal health. The Journey section features diverse travel accessories that help perfect the home-away-from-home experience for people on the go. The Kids section is a creative habitat full of fanciful toys that will capture the imagination of children of all ages. Fun stuffed animals are for sale alongside more sophisticated toys such as remote controlled helicopters. The Kitchen goods section has everything a foodie could want - airwave knives made with a discerning modern eye an unique pans with ceramic frying surfaces are for sale here. A true kitchen connoisseur will appreciate the table top cooker - which perfectly grills, roasts, steams, slow cooks and fast fries. The Style selection has a variety of fine accessories to complement any fashionista's wardrobe. The Home section carries indispensable home accessories - from simple items such as mops and sweepers to ingenious laptop tables (complete with cooling fans and a vented design that helps diminish overheating).
Unlike traditional brick and mortar shops, one can visit http://MyVistaShop.com at any time or day of the week: this online store is open 24-7. Shipping is available to the following countries: United Arab Emirates, Oman, Qatar, Kuwait, Bahrain, Saudi Arabia, Tunisia, Syria, Palestine, Morocco, Libya, Lebanon, Jordan, Iraq, Egypt, Algeria, United States, Canada and the United Kingdom.
To sum up, this online store is an excellent way to cure boredom with its endless selection of fantastic and thoughtful products that are sure to brighten one's home and life. From body massagers to specially designed laptop tables and kitchen tools, http://MyVistaShop.com products are meant for customers with a discerning eye who appreciate all the benefits of modern technology today. For customers who want the speed and selection online shopping affords, MyVistaShop.com is an excellent choice.