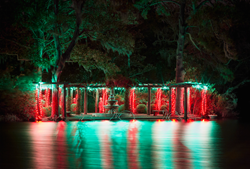 Fun Things to Do in Wilmington for the Holidays
Wilmington, North Carolina (PRWEB) December 10, 2014
Every year in late November, Arlie Gardens is transformed into "Enchanted Airlie," a holiday paradise with an estimated 750,000 twinkling lights illuminating a walking trail of Christmas displays. Since 2005, Enchanted Airlie brings joy to the holiday season. It's one of the biggest year-end draws among North Carolina beach cities.
This year at Arlie Gardens during December, visitors will enjoy:
Festive flowers
Light shows
Holiday music
Meet and Greet the Winter Princess
Enchanted Airlie will run Friday, Nov. 28 and Saturday, Nov. 29. In December, the dates are: 5-6, 11-14, 18-22. There are two run-times per evening, 5-7pm and 7-9pm. Tickets often sell out in advance so don't wait. Arlie Gardens is popular at all times of the year, helping to make Wilmington one of the top places to live in North Carolina through its botanical gardens. Other big events include the annual Oyster Roast and the popular Summer Concert Series on the first and third Friday of every month from May through September.
Airlie Gardens, located at 300 Airlie Road, is a 67-acre historic public garden bordering Bradley Creek in Wilmington, North Carolina. Established in 1901, the garden is a cultural and ecological component of New Hanover County and North Carolina history that features formal gardens, wildlife, historic structures, walking trails, sculptures, views of Bradley Creek, 10-acres of freshwater lakes, the celebrated 466-year-old Airlie Oak, more than 100,000 azaleas and countless camellia cultivars.
Don't let this winter wonderland fool visitors. The Wilmington, North Carolina area is a beach lover's paradise making it one of the top places to live in North Carolina. It's home to Wrightsville Beach named by National Geographic Magazine one of the World's 20 Best Surf Towns in 2012. That's thanks in part to its miles of sandy beaches, a famous fishing pier and a natural beauty that appeals to residents and visitors alike. The island is four miles long and is a popular place for second and vacation Wrightsville Beach homes. With water all around the island, Wrightsville Beach is hot spot for SUP paddle boarding. Wrightsville Beach is an excellent place to find a beach cottage or oceanfront home.
MORE ABOUT WRIGHTSVILLE BEACH
Four Miles Sandy Beach
Johnnie Mercer's Fishing Pier
Wrightsville Beach Park with Four Lighted Tennis Courts
Wrightsville Beach Marina, Dockside Marina, and Bridge Tender Marina
Big Lollipop Bay
The Loop 2.45 Mile Walking Path
The Wilmington Historic River District and Island Beaches offers a variety of dining, trendy shops and a vibrant nightlife. Downtown, stop at a quaint café, tour local film sites or board Battleship North Carolina. Wilmington combines all types of urban living and culture in one of the best North Carolina beach cities.
Folks looking for something a little more upscale will find the Country Club of Landfall borders the Intracoastal Waterway on the north side of the Cape Fear River. Its two luxury golf clubhouses offer breathtaking views of 45 holes of championship golf, 27 designed by Jack Nicklaus and 18 crafted by Pete Dye. Members also lead active lifestyles at our fully equipped Cliff Drysdale Sports Center, which provides 13 Tennis Courts on two surfaces-clay and hard, plus an Olympic size swimming pool and state-of-the-art fitness center. Over four miles of the community borders the Intracoastal Waterway and Howe Creek, Brunswick County waterfront homes having panoramic views of the water, just some of the reasons why residents call Landfall one of the top places to live in North Carolina.
MORE ABOUT LANDFALL AMENITIES NEAR ARLIE GARDENS
24 Hour Manned Gated Entrance
Cliff Drysdale Sports Center
13 Lighted Tennis Courts
1,600 Square Foot Fitness Center
Outdoor Olympic-size Swimming Pool
Kenan Chapel
When folks travel to compare North Carolina beach cities, why not check in on Wilmington and meet Real Estate Scorecard's trusted colleague, Bill Boyer of Intracoastal Realty. Call Boyer direct at 910.262.5414. He can show buyers the best value homes in Landfall, at Wrightsville Beach or anywhere in Wilmington North Carolina.
About Real Estate Scorecard:
Real Estate Scorecard writes unbiased real estate reviews providing in-depth information about popular gated communities in Florida, Georgia, North Carolina, South Carolina and Tennessee, all in an effort to help people discover where to retire in the Southeast.
Website: http://realestatescorecard.com