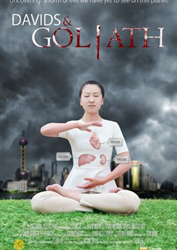 "The award and the recognition are wonderful. I hope this can spark a broader discussion on organ harvesting, and help to bring an end to this crime that continues going on in China," says filmmaker Leon Lee.
Toronto, Ontario (PRWEB) December 09, 2014
Davids & Goliath, an eye-opening documentary about illegal organ harvesting in China produced and directed by Vancouver filmmaker Leon Lee, has just won first prize and $50,000 in the Viewster Online Film Festival — "VOFF4" — the world's largest online film festival. The film was funded by the Canada Media Fund's Diverse Languages Program and broadcaster New Tang Dynasty Television Canada.
Out of 230 submissions, Davids & Goliath made its way into the top 10 as ranked by over a million online visitors who participated via social media views, shares and likes. A jury of industry experts including Ted Hope then selected the best and awarded Davids & Goliath with the highest honours.
"Congratulations to Flying Clouds Productions, the team behind Davids & Goliath, for capturing a story that has Canadian and international audiences recognizing this compelling Canadian content," says Valerie Creighton, President and CEO, Canada Media Fund. "We are proud that this CMF-funded project has earned praise and recognition internationally and has also won the top prize in an international online film festival. This success provides solid evidence that audiences want to access Canadian content at any time, on any platform, anywhere around the world."
The #VOFF 4 jury praised the film in a statement Monday, saying it is "well-focused and chooses well-informed individuals with a firsthand knowledge of the dire situation in China, putting their cases forward in a clear and gripping manner."
Davids & Goliath recounts the investigation led by Canadian Nobel Peace Prize Nominees David Matas and David Kilgour, a human rights lawyer and former Canadian MP, who researched the illegal organ trade in China and published a chilling report about their findings. Through interviews with experts, witnesses, and people who have received organ transplants in China, the film uncovers one of the world's worst crimes against humanity. Tens of thousands of organ transplant surgeries in China have sourced their organs from executed prisoners of conscience, mostly practitioners of Falun Gong.
"I think it's easier to pretend that a crime of this magnitude isn't real," says director Leon Lee. "But the evidence is overwhelming. The award and the recognition are wonderful. I hope this can spark a broader discussion on organ harvesting, and help to bring an end to this crime that continues going on in China."
"New Tang Dynasty was the first television network to broadcast the news of organ harvesting, and we are thrilled to be a part of this documentary today," says Joe Wang, president of NTD Canada.
This is the first feature-length documentary for Lee and his company Flying Cloud Productions. Lee says the prize money will help to further promote Davids & Goliath, continue raising awareness for this issue, and contribute to his upcoming projects, some of which have also won support from CMF. Davids & Goliath will be released worldwide in 2015 under the title "Human Harvest."
"It is a great honour to receive this award," says Lee. "Together we have the power to end this terrible crime in China, so I am very grateful to everyone that voted for us, to Viewster for believing in our film, and to the Canada Media Fund and NTD Canada for helping to make it possible."
The CMF's Diverse Languages Program supports productions reflecting Canadian diversity by funding projects in languages other than English, French, or Aboriginal languages. Davids & Goliath will air in Mandarin on NTD Canada.
About the Canada Media Fund
The Canada Media Fund (CMF) fosters, develops, finances and promotes the production of Canadian content and applications for all audiovisual media platforms. The CMF guides Canadian content towards a competitive global environment by fostering industry innovation, rewarding success, enabling a diversity of voice and promoting access to content through public and private sector partnerships. Please visit http://www.cmf-fmc.ca.
The CMF's Canadaonscreen.ca is a website designed to showcase and celebrate Canadian creative talent and content destined for all types of screens, from television productions to games, Web content and software and applications.
About NTD Television
New Tang Dynasty (NTD) Television is the largest Chinese broadcaster in North America and is seen by over 100 million viewers worldwide. It was the world's first independent, non-profit Chinese-language TV broadcaster established by Chinese living outside China. NTD began broadcasting via satellite in North America in February 2002 and extended its 24/7 programming to Asia, Europe, and Australia in July 2003.
NTD Canada is a licensed multi-language Canadian broadcaster available on Bell Fibe, Rogers, Shaw, and Novus. The global NTD network is headquartered in New York City and has gained an international reputation for its objective and timely reporting of political, economic, and cultural stories in the Chinese language, as well as for its multi-faceted educational and entertainment programs that bring together the finest in both Eastern and Western cultures.
About Flying Cloud Productions
Flying Cloud Productions is a Canadian production company dedicated to creating thought-provoking and entertaining film, television and digital media for audiences worldwide. The company was founded by Leon Lee, an award-winning journalist, director, and producer of Chinese programming for over 10 years. Flying Cloud Productions is known to explore topics vital to understanding modern-day China, and bring to life fascinating and dramatic stories that couldn't be told within Chinese borders.
For more info:
http://www.davidsandgoliath.com
Contact: Melissa James
Flying Cloud Productions
melissa(dot)james(at)flyingcloudproductions(dot)com
+1 (778) 686-4283