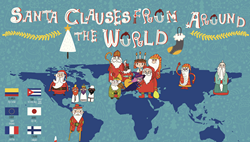 Don't forget Christmas Day is on January 7 in countries such as Russia, Egypt, Ethiopia and Serbia
London (PRWEB UK) 9 December 2014
In the UK, USA and Australia, Christmas traditions are very alike. However Christmas is celebrated in 160 of the 220 countries ParcelHero serves, and in some countries dates and customs are very different indeed. It's best to take advantage of ParcelHero's local knowledge of traditions to ensure your parcel arrives on the right day.
Don't assume friends overseas celebrate Christmas when you do, and leave plenty of time for your gifts to clear Customs. Christmas is a hugely national popular holiday in many countries around the globe – even for non-Christian countries such as India and China's Hong Kong and Macau territories. Christmas lovers would do well to head for the Philippines, which has the longest Christmas celebrations with carols being sung from September 1st! One of the places Christmas lovers had to avoid until quite recently was Cuba, where it was banned until the 1990s!
In many countries Christmas Eve is the most important day for celebrations and gift giving. From Poland (where it's Wigilia) to Denmark, where it's known as Juleaften, Christmas Eve is the traditional day of feasting and gift giving.
Santa Claus, like ParcelHero, has to know the correct day to deliver across the world. Don't forget that Christian Orthodox countries celebrate Christmas on January 7th. Christmas Day is a public holiday on January 7 in countries such as Belarus, Egypt, Ethiopia, Georgia, Kazakhstan, Macedonia, Moldova, Montenegro, Serbia, Russia, and the Ukraine. Some countries, such as Armenia, observe Christmas Day on January 6.
There's not long now to send your parcels. Express mailing to Africa must be done from UK by 18 December, to Asia, Australasia and South America 17 December and Europe and N America 19 December. However, for many Central European countries if you want to send presents to children, you have already missed the most important day. December 6 is the traditional day when St Nicholas leaves presents in children's shoes in many countries, including areas of Belgium, Austria, Northern France, and Germany.
A common tradition in many central European countries is for a kind of anti-Santa. A devil-like figure who gives out sticks rather than presents, especially for those children who have not been good. He's commonly called Krampus. The mythical Krampus is celebrated in countries such as Austria, Rumania, Hungary and the Czech Republic. Of course ParcelHero is confident its welcome presents, and not sticks, we'll be delivering!
Mexican children have a long wait. Though they may receive presents on Christmas day, the tradition is that they receive their main gifts from the Three Wise men on January 6th. Celebrations in Mexico don't end until February 2nd.
Finally, the UK and the US get the tradition of Santa Claus from Dutch settlers in the US, who call Saint Nicholas Sintaklaas. Despite the growth in emails, Santa Claus receives over 550,000 letters and presents a year says the Finnish Post Office.
This Christmas take advantage of ParcelHero's experience delivering into 220 countries. Visit:http://www.parcelhero.com/en-gb/international-courier-services