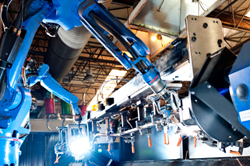 Atlanta, GA (PRWEB) December 10, 2014
1-800 Courier, a recognized leader in same-day delivery, distribution and transportation services, announces emergency plant shutdown same-day delivery services. The courier service makes the announcement in an effort to market its services to plants and manufacturers in immediate need of repair parts, expand its current client market and increase courier growth. 1-800 Courier pursues to be the best choice for courier logistics and same-day delivery solutions throughout the US.
Emergency plant shutdown same-day delivery services consists of time-sensitive parts shipped to customer locations locally and out-of-state for operational repairs. 1-800 Courier offers the service for any company machine stoppage nationwide. From small accessories to heavy palletized parts, the courier is able to provide its' customers with business hour and after-hour deliveries.
Manufacturers, plants and other facilities with 24-hour operations can minimize employee downtime costs with the shutdown delivery service. All courier orders can be requested via phone or online. If the order is made online, clients are recommended to inform 1-800 Courier of a plant or operation shutdown, which will be noted as time-sensitive. The delivery will be communicated as a plant shutdown and regarded with the highest priority for on-time delivery.
The New York courier also has its daily non-emergency courier services available nationwide. Express 2-hour window services and standard 4-hour window services per trip provide customers with the ability to have small packages, palletized freight and other items delivered the same day. For any specific requests for plant shutdown same-day delivery services, clients are recommended to contact 1-800 Courier to discuss their immediate courier needs. From small businesses to multiple location corporations, 1-800 Courier will continue to create premium delivery services that add value for its' clients.
1-800 Courier is a premier same-day courier offering transportation, messenger and distribution services. From small packages to palletized freight, 1-800 Courier delivers fast. As a leader in the courier industry, the goal of 1-800 Courier is to perform optimal courier logistic solutions and superior customer service every time. 1-800 Courier provides same-day delivery successfully for over 1,500 clients, including Fortune 500 companies nationwide.