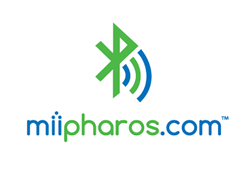 MiiPharos is the ibeacon turnkey solution that changes the retail marketing. Unpack and Play so easy .
Palo Alto, CA (PRWEB) December 11, 2014
MiiPharos is a complete Mobile Marketing Platform using iBeacon™ technology of Apple. Comes complete with: 4 iBeacon™ devices, a Web interface to manage the content, Applications for iOS & Android and Analytics.
MiiPharos devices are small Bluetooth Low Energy sensors that send real time multimedia content, targeted and personalized to smartphones, when you walk into a store. They use a 2 years life battery, broadcast in a range of up to 70m and you can place them anywhere – even in your bag!
Retailers can "add content" to devices from a web interface without physical connection and without coding knowledge. In a few minutes they can set up their in-store campaign using numerous features: e-coupons, multimedia, social media, check in services, menus and more. Even with just a click they can create a mobile site by pulling data from their desktop website.
Last, but not least, shoppers can download the Application for free from the App Store or Google Play and experience your offers, be engaged in your social media campaigns and share with their friends.
In-store mobile marketing, says Denise Berry, CEO of U.S. Branch - MiiPharos Inc., is the new way to differentiate from competitors, nurture customers' relationships and encourage brand loyalty. Ancillary purchases are more reliable via coupons and special offers while they upgrade shopping experience.
Most companies are seeking for publicity. Today, social media have an important role in every business and in-store mobile marketing is the ideal mechanism to encourage visitors to tweet, share or pin what they like in real time with their friends.
The MiiPharos mobile marketing Platform is designed to be simple, powerful and useful for every business. Just add your content and in a few minutes run your campaign. Denise also includes, it will make upon seeing the impact on consumers' behavior analysis via the analytics tools. The platform comes with insights of the campaigns and special in-depth analysis.
MiiPharos is the only turn-key iBeacon™ solution that promises to trigger a new era in mobile marketing for small businesses or brands. MiiPharos celebrates this Christmas with a limited 20% off special offer, free shipping and money back guarantee.
MiiPharos is a subsidiary company of Kerverus Holding IT Plc (KERV:CY) Listed in Cyprus Stock Exchange.