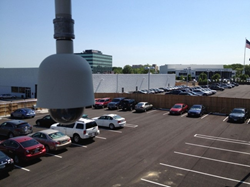 "We are immensely proud of the successes and growth we have achieved in 2014. This year has been transformative for us as a company, and we are honored to play a role in advancing the success of our customers' businesses." Eyewitness President R.T. Arnold
Hanover, MD (PRWEB) December 09, 2014
Eyewitness Surveillance (Eyewitness), an industry leader in remote interactive video monitoring solutions serving mid and large-sized automotive dealerships, metal recycling yards, and other fixed industrial facilities nationwide, announces today that it has achieved consistent, rapid growth throughout 2014, positioning it for continued future success as its expansion and innovation goals progress into 2015.
Driven by its overarching goal to forge deep, long-term relationships with customers, Eyewitness strives to truly understand the core businesses, goals, and larger industry needs of each client it serves. This knowledge enables Eyewitness to tailor its surveillance solutions and further develop products that address specific needs or opportunities for their customers and markets. As a result, Eyewitness has continued to drive sustained, consistent growth through its value-added partnerships and innovative products that allow its customers to retain their profits and improve their customer service.
In 2014, Eyewitness achieved and exceeded all of its established growth targets, including:

Overall growth of 25-30%;
Expansion into the Midwest market, centered in the Chicago, IL region, along with sustained growth in the Mid-Atlantic and Northeast markets;
Continued development and expansion of Eyewitness's branded video management system, Eyewitness Insight;
Ongoing enhancements and innovations to Eyewitness's range of industry-leading technology and solutions offerings; and
Completion of a comprehensive corporate re-branding effort, along with the launch of a new, feature-filled website.
Eyewitness also added to its executive team throughout the year to continue to drive and support its ongoing expansion and market growth. Among the new hires are Don Gorman, Director of Field Operations; Gabrielle Curreri, Customer Relations Manager; and David Carroll, Sales Manager, along with other expansions in the inside sales and overnight remote surveillance services teams.
"We are immensely proud of the successes and growth we have achieved in 2014," said Eyewitness President, R.T. Arnold. "This year has been transformative for us as a company, and we are honored to play a role in advancing the success of our customers' businesses."
In 2015, Eyewitness plans to continue to build on this year's significant successes. Key target initiatives are to expand into new markets across the United States, particularly the Southwest, Southeast, and Western regions. Also under development and in beta are three new operation-enhancing products to help automotive dealerships improve customer relations, audit their operations, and drive more business.
"It is our core belief to only develop products that address customer needs," said Eyewitness CEO, Rush McCloy. "This, along with our continued focus on forging strong partnerships and building a quality team of experts, will remain integral to us as we grow and expand strategically into new geographic markets in 2015. We look forward to what the future holds."
About Eyewitness Surveillance
Since its founding in 2004, Eyewitness Surveillance has established itself as a leader in remote interactive monitoring, providing innovative and cutting-edge security and operational solutions for mid-size and large car dealerships, metal recycling yards and a variety of other fixed industrial facilities across the country. Eyewitness has a state-of-the-art central station and its services help clients prevent theft, inventory damage and false claims without the need for onsite guard services. The key differentiator for Eyewitness is that its products and services extend beyond pure security into operations. Using sophisticated algorithms, analytics can be created from data captured on Eyewitness's state-of-the-art cameras that can then be used to measure customer foot traffic and employee behavior, improve customer responsiveness, drive sales and manage assets. For more information on Eyewitness and its services, please visit http://www.eyewitnesssurveillance.com. Also follow Eyewitness on Facebook, Twitter (@EyewitnessSurv), and LinkedIn.
###