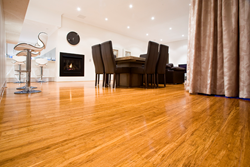 (PRWEB) December 10, 2014
BambooIndustry.com is a professional company offering a wide range of bamboo products. The business has recently shown its new engineered bamboo flooring collection at some exhibitions. Today, the business announces a special offer on all these new models.
According to the website, BambooIndustry.com's bamboo flooring has a mixture of color that comes from natural bamboo strips. The bamboo flooring can have various tones depending on the percentage of mixing, like 30% of natural bamboo strips with 70% of caramel bamboo strips. Along with tiger bamboo flooring, BambooIndustry.com provides a wide range of bamboo flooring products.
"We have won many positive reviews from customers for our new engineered bamboo flooring products. To know more details about bamboo flooring, people can take part in our monthly seminar, and our engineers there will teach people how to find high quality products by explaining some typical defects in the manufacturing process." The CEO adds.
BambooIndustry.com has been working in the industry for decades. As one of the leading suppliers, the company pays close attention to product quality. Its senior spokesman is happy to announce the brand new bamboo panels. He says that all the company's designers have a vast knowledge of customers' needs and product quality.
BambooIndustry.com has also developed many innovative ways to improve the bamboo flooring's texture and finish. This gives consumers a better reason to make use of bamboo flooring in their houses.
About BambooIndustry.com
Certified by both ISO9001:2008 and ISO14001:2004, BambooIndustry.com has 8 years of experience in the manufacturing and wholesale of bamboo flooring products. The company strives to bring its customers the latest styles and innovations of bamboo flooring, bamboo paneling, bamboo plywoods, bamboo furnitures, and other bamboo products.
More information about BambooIndustry.com and its bamboo flooring products can be found at http://www.bambooindustry.com/products/bamboo-flooring/engineered-bamboo-flooring.html