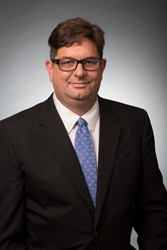 It is encouraging to see the continued development of HNTB's Southern California rail and transit team propelled by the addition of an excellent leader such as Chris
SANTA ANA, Calif. (PRWEB) December 09, 2014
Christopher Coffman, PE, has joined HNTB Corporation as senior project manager of transit and rail. He brings 25 years of experience in the management, planning, design and construction management of major civil works projects, including rail and transit, facilities, highways and harbors.
Coffman will manage the rail and transit team in the firm's Santa Ana, California office. Additionally, Coffman will provide technical support as a leader for rail design in HNTB's West Division.
"It is encouraging to see the continued development of HNTB's Southern California rail and transit team propelled by the addition of an excellent leader such as Chris," said Graham Christie, HNTB Southern California director of transit and rail. "He will be an invaluable asset as the firm continues to serve as trusted advisor for our valued clients."
Prior to joining HNTB, Coffman served in a variety of project management positions on rail projects throughout Southern California, including Los Angeles-San Diego-San Luis Obispo Rail Corridor program management services for the San Diego Association of Governments; project management and technical support for the North County Transit District; and management of project designs for Southern California Regional Rail Authority, Los Angeles County Metropolitan Transportation Authority, BNSF, California Department of Transportation, Port of Long Beach and other agencies. He previously served as senior project manager for another California-based transportation consulting firm, and as project manager at Amtrak Western Division.
Coffman earned a Bachelor of Science degree in civil and structural engineering from Vanderbilt University.
HNTB, a leader in the California rail and transit industry, is currently preparing engineering and environmental studies for the California High-Speed Rail Authority's 800-mile rail program, which will eventually extend from Sacramento to San Diego. HNTB performed program-level environmental and engineering studies on the Los Angeles-to-San Diego segment of this high-speed rail program, developing a project management plan for the segment.
In Southern California, HNTB has been involved in some of the region's most high-profile, complex infrastructure programs that are reshaping the region. In addition to the Sixth Street Viaduct Replacement Project, HNTB is providing lead design and engineering services for the Crenshaw/LAX Transit Project on behalf of the Los Angeles County Metropolitan Transportation Authority, and the Tom Bradley International Terminal Expansion for Los Angeles World Airports.
HNTB Corporation is an employee-owned infrastructure solutions firm serving public and private owners and contractors. HNTB's work in California dates back to its founding in 1914. Today HNTB continues to grow in size and service offerings to clients in California from seven office locations, currently employing more than 350 full-time professionals. Now celebrating a century of service, HNTB understands the life cycle of infrastructure and addresses clients' most complex technical, financial and operational challenges. Professionals nationwide deliver a full range of infrastructure-related services, including award-winning planning, design, program management and construction management. For more information, visit http://www.hntb.com.