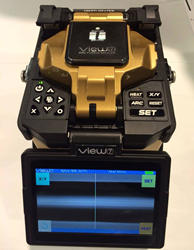 The technology for the View splicers are the most advanced of any splicer on the market today. We expect these splicers to improve work performance for many of our customers. George Kyrias, President, FORC
Nashua, NH (PRWEB) December 16, 2014
Countless and continuous efforts of understanding the nature of the market, and endless reflection and consideration about customers, were taken into consideration when embarking on the design of the View Series Fusion Splicers. Learning from the success of Apple's Retina Display and Samsung's Galaxy Note series, the quality and size of display became one of the critical factors for ensuring customers satisfaction. Keeping up with the market trend, INNO Instrument has concentrated on developing the fusion splicer, which allows the customers to visualize the splice result on the screen during the operation without using an OTDR.
The View Series introduces Capacitive Touchscreen Technology. Capacitive touch panel follows a new technology in which they use an insulator such as glass covered with a transparent conductor. Capacitive touchscreens register a touch whenever it comes in contact with a conductive object such as human fingers. Capacitive touchscreens can use glass as the front panel, which makes them highly durable, easy to clean and resistant to scratches.
Competitor's screens are resistive technology which is constructed from two layers of material with a space between them. When a stylus or finger pushes on the outer screen, the two layers are pressed into contact, thus registering a touch and performing a given task. Both touchscreens have good visibility in indoors. However, restive touchscreen has very poor visibility in sunlight because the extra layer reflects too much ambient light. Therefore, capacitive touchscreen provides a satisfactory work experience for both indoor and outdoor projects.
The View splicers have advanced processors and are powered by a multi-core CPU with specially designed GPU for fusion splicers, which enables all the innovative functions and great performance of View series fusion splicers. A highly visible benefit of multi-core processing is superior multitasking that delivers high performance and uncompromised responsiveness. Under multitasking conditions such as running splicing and heating concurrently, the operating system can dynamically allocate workloads to the appropriate CPU core to service multiple tasks faster.
Due to variable symmetric multiprocessing, the main multi-core CPU architecture is more power, efficient and delivers higher performance per watt. Lowering power consumption and increasing performance per Watt.
A user-friendly smart GUI display makes the View series easy to use for both indoor and outdoor projects. INNO Instrument totally redesign its fusion splicer UI for the satisfaction and convenience of customers. The advanced splicing functionality is available through clear options in a tile-based design, so experts and even novices can understand its operation without assistance or special training.
With a Powerful GPU the View Series Fusion Splicers offer a vivid and colorful user interface, a clear fiber profiling, and improved loss estimation. Because fiber alignment and splice loss estimation are operated based on the fiber image on the screen, it is important to project clear and sharp fiber images on display. The View's advanced graphic processor delivers higher splicing performance and more accurate splice estimation, while supporting for the highest magnification of 520X and resolution display up to 800 x 480.
About FiberOptic Resale Corporation
FiberOptic Resale Corp (FORC) is a dedicated value added stocking distributor and service center servicing the fiber optic industry. We bring high-quality, cost-efficient products to the CATV, Contractor, Enterprise, and Telecommunications marketplace. These products are centered on the Outside Plant (OSP), Central Office (CO), and head end areas of our customer's environments.
With a wide variety of services including in-house technicians we repair, clean & calibrate fusion splicers, OTDRs and cleavers and more. FORC is the largest INNO Instrument authorized fusion splicer service center. Our clients benefit from our "In the field" philosophy with on-site demos and training sessions to help technicians keep up to date on the latest products. To request a product demo, please call 877-287-7535.
About INNO Instrument
INNO Instrument was founded in Seoul Korea in 2007, with their USA corporate sales and technical staff facility located in Dallas, Texas. Specializing in the latest technology of core alignment and clad splicing INNO Instrument continues to develop their fusion splicer products to include the new View Series of fusion splicers. INNO fusion splicer comes with a 3 year warranty. The best warranty in the industry.